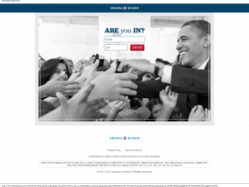 San Diego, CA (PRWEB) January 22, 2013
The President's internet presence was huge during this last campaign, up considerably from any other previous year. Many felt its success contributed to Obama's reelection, yet during his 15 minute speech yesterday, he failed to thank that team which did everything right.
ConversionVoodoo, a conversion optimization company in California, performed an extensive analysis of President Obama's internet campaign. They analyzed his website, donation form, and even paid advertisements pointing out many of the highly successful landing page optimization tactics that were used to make it more likely for voters to support him.
One of the tactics was using headlines which created an emotional connection to the viewer. Lines such as "Barack is counting on you. Join us.", and "Are YOU in?" used a strategy which resulted in the reader feeling included.
Collecting an email address allowed the campaign to stay in touch with potential voters and donors and build a relationship. By asking for a zip code, the campaign would have been able to target special emails to subscribers in swing states.
Other example tactics included using pictures where Obama's smiling gaze directed at the sign-up form, and matching the look and feel of advertisements with the landing pages.
Mitt Romney's internet campaign had used some suggested practices, but Barack's proved more effective.
In 2007 Conversion Voodoo ignited the industry with its award-winning conversion optimization processes and techniques. Today, Conversion Voodoo continues to helps companies grow their profits by 15% to 500% using their arsenal of optimization implementations, marketing expertise, and business prowess. Conversion Voodoo is a privately held company and is headquartered in San Diego, CA. For more information on Conversion Voodoo, please call 1-800-454-5882 or visit http://conversionvoodoo.com.