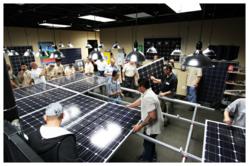 Solar...what a bright future it has
Murrieta, CA (PRWEB) January 23, 2013
Ambassador Energy began answering the call for solar training in 2009. Today, having morphed its training arm into Ambassador Energy College, a variety of courses are offered - most recently, an advanced PV online course and the class offered in the MSJC Spring 2013 catalog:
NEW! Solar PV Design & Installation Technician
This course is an introduction to PV components, system design, industry codes and standards for PV systems and unique design problems and solutions. Students learn how photovoltaic systems operate as well as system design and safety practices. The course offers basic electrical terminology, solar fundamentals and detailed discussion of system components, electrical and mechanical system design and OSHA safety standards. The North American Board of Certified Energy Practitioners NABCEP Entry Level Exam will be administered on the last day of class.
Prerequisites: None.
"Living local to MSJC myself, I always look forward to getting my course catalog," said Kelly Smith, president of Ambassador Energy in Murrieta. "I was so happy to see the new Ambassador Energy course being offered in the spring catalog that went out to over 250,000 residents in this valley. We are officially sharing our knowledge of the solar industry with all of our neighbors in this part of SoCal. Solar is very satisfying work, indeed. What a bright future it has!"
Ambassador Energy and MSJC also offer the Advanced Solar PV course, which provides qualifying prerequisite hours for the NABCEP PV Installer exam. This is an online course whereby students may learn "at their own pace" in preparation for the NABCEP exam, given twice per year. NABCEP is considered within the industry to be the "gold standard". Their certifications are a standardized measure of excellence in the renewable energy arena.
The new MSJC curriculum is the brainchild of the Ambassador Energy training team, spearheaded by Director of Training, Catherine Kelso. In addition to her being an acclaimed teacher, she has also proven to be an excellent student, earning both NABCEP individual certificates – PV Installer and PV Technical Sales. Catherine is one of only a handful of women in North America with both certificates.
"I'm just happy to be working and teaching in the solar arena," proclaimed Kelso. "If I can help anyone else get qualified to find good work in this industry, it's icing on the cake."
About Ambassador Energy
Ambassador Energy [AE] has a three-pronged business model, including Ambassador Energy College Solar Training, the Ambassador Energy Agency Program and Ambassador Energy, an EPC contractor. On staff are NABCEP Certified PV Installers, NABCEP Certified PV Technical Sales professionals [Fulgham/Kelso] and multiple NABCEP EL graduates. AE Agencies are nationwide. Ambassador Energy EPC installs PV systems throughout California.