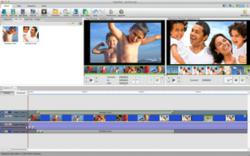 VideoPad v3.00 not only takes big steps in advanced editing capabilities, it also brings the easy-to-use video editor to Mac OS X for the first time.
Denver, Colorado (PRWEB) January 22, 2013
NCH Software, the leading provider of audio and video multimedia software, today announced the release of version 3.00 of VideoPad video editing software. This release not only takes big steps in the advanced editing capabilities of the Windows movie making software, but also brings the easy-to-use video editor to Mac OS X for the first time, appealing to a wider range of video users than ever before.
VideoPad video editor was already a major player in video editing, averaging over 300,000 downloads a month, and has been awarded for excellence by both CNET and TopTenReviews who have noted what long-time users already knew, that VideoPad is a powerful, professional and full-featured video editor. The new version remains easy-to-use, diminishing the large learning curve that is often associated with video editing. Version 3.00 added several workflow improvements and advanced video editing features that more practiced video editors will appreciate, making VideoPad a more competitive video production program while still maintaining that easy-to-use approach VideoPad loyalists are used to.
Improvements include new tabs that focus on specific stages of video production, from editing clips to fine tuning sequences and audio editing; better media file management; additional video tracks and sequences; and video effect keyframing. Along with optimization improvements, VideoPad is better equipped to handle large movie editing projects than ever before.
VideoPad's strengths has always included more video file format support than the competition, making it well poised for cross-platform support and eliminating potential problems before the editing even begins. The wide range of output options, including directly uploading to Facebook or YouTube and DVD burning, truly make VideoPad a flexible video editor from start to finish. Whether on a Mac or PC, a beginner or an old pro, VideoPad is the video editing solution for everyone.
About NCH Software
NCH Software offers more than 80 easy-to-use software applications for audio, video, business, dictation and other utilities for Windows, Mac and mobile devices. Individual software programs are designed to fulfill specific needs and solidly integrate with related products, improving productivity for small businesses and consumers alike. By offering such a wide breadth of software applications at affordable prices, NCH Software is where users turn for reliable software applications for any need. This approach generates over seven-million unique visitors and three-million downloads per month from the company's website – http://www.nchsoftware.com.