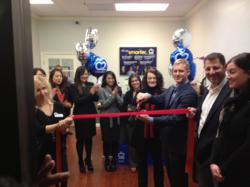 Los Gatos, CA (PRWEB) January 23, 2013
C2 Education, the nation's fastest growing network of educational support centers, celebrated the Grand Opening of its Los Gatos tutoring center on January 10, 2013. The new center will provide local families access to unique education programs including SAT/ACT preparation, subject tutoring, and college admissions counseling.
The Los Gatos Grand Opening events were marked by speeches from local officials and from C2 Education Chief Operating Officer Jamie Davidson, who spoke of the importance of furthering students' educational achievements during a time of increased academic and economic competition.
The new C2 Education center, located at 15545 Los Gatos Boulevard, continues the mission of C2 Education, which is to bring higher academic standards and access to educational opportunities to communities across the country. The addition of the Los Gatos location marks the eighth C2 Education center in the greater San Francisco area with additional locations soon to come.
ABOUT C2 EDUCATION
C2 Education was founded as an in-home tutoring service run out of a Harvard dorm room in 1997. From those humble beginnings, C2 has grown to include more than 120 tutoring centers across the country serving thousands of students each week. C2 students enjoy fully customized programs, one-on-one interaction with highly qualified teachers, and the support needed to succeed throughout their educational careers. C2's results speak for themselves: C2 students increase their SAT scores by an average of 350 points, 100% of C2 students pass state standardized tests, and 85% of C2 students go on to attend a top 50 college or university. For more information about C2 Education, please visit http://www.c2educate.com or call (800) 777 - 7000.