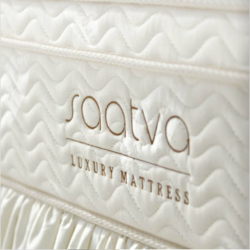 We're not only out to show we can deliver the best value, we also want to make every customer is incredibly satisfied with their Saatva experience. We thank our customers and Google.

- Ed Brians, Saatva EVP
Westport, CT (PRWEB) January 22, 2013
Saatva Luxury Mattress, America's best selling online mattress, was noted as being the highest rated mattress brand on Google in 2012. Saatva's competitive pricing, high level of customer service, and high quality craftsmanship earned the company an average 4.9/ 5 review rating in 2012, leading all mattress brands and retailers. As this recent recognition shows, Saatva rapidly has become the preferred destination of choice for mattress buyers across the US.
According to Saatva CEO Ron Rudzin, "Saatva has always striven to provide the best product and service in the industry. Learning that we were the highest reviewed mattress on Google in 2012 validates our continued efforts to simply be the best in the business."
Saatva is unique in that its online-only business model disrupts traditional mattress industry economics by eliminating costly retail stores and middlemen. As a result the company is able to deliver an ultra premium mattress to customers for half the price of traditional luxury mattresses.
Saatva is backed by a 100% Customer Satisfaction Guarantee and offers a free 30 day trial of its product. As EVP Ed Brians says, "We're not only out to show we can deliver the best value, we also want to make every customer is incredibly satisfied with their Saatva experience. We thank our customers and Google for noticing."
Saatva has received a number of product and customer service directed accolades including the 2011 Better Business Bureau (BBB) Torch Award for Integrity in online marketing.