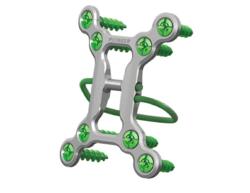 The best part of the [Tritium SCP] system is that it takes the best of both worlds and puts it into one device.
Marquette, Michigan (PRWEB) January 22, 2013
Pioneer Surgical Technology, Inc., a leader in innovative medical devices, announces its first clinical use of the Tritium Sternal Cable Plating (SCP) System for closing median sternotomies following an open heart procedure. The procedure was performed at St. Rose Dominican Hospital in Henderson, Nevada by Dr. Robert Wiencek who noted, "The best part of the [Tritium SCP] system is that it takes the best of both worlds and puts it into one device." He continued, "Rather than relying on traditional cerclage cables or anterior plates alone, this new cable plating system provides the benefit of having both systems integrated into one simple technique. You can pull the cables tight, bring the sternum together, and then screw it all down. This eliminates micro-motion in the sternum and combines the best of both closure methods into this single device."
The Tritium SCP System enhances the stability and strength of traditional sternal closure techniques by utilizing a unique load-sharing concept. The device incorporates the advantages of cerclage cables and cancellous screws, integrated with a low profile plate. "This unique combination creates a load-sharing design that uses cable tension to provide circumferential compression across the median sternotomy," says Peter Didyk, Director of Sales and Marketing at Pioneer Surgical. "The device complements our current Sternal Cable System by offering additional options to accommodate surgeon preferences and better address variances in patient anatomy."
Pioneer Surgical received FDA clearance for the Tritium SCP System in October. "Pioneer celebrated its 20th anniversary last year and this key product launch is a tremendous way to celebrate our past success and focus on our continued growth in and outside the United States," said Shane Ray, Pioneer's Executive Vice President of Surgical Solutions and Biologics. "Within a year, our engineering, marketing, sales, and manufacturing teams took this idea from a napkin drawing to an FDA cleared product with many benefits. We are enthusiastic about our continued service to the Cardio Thoracic community, surgeons and patients."
For more information regarding Pioneer's product offerings, including the Tritium SCP System, please visit the Pioneer Surgical website.
About Pioneer Surgical Technology:
Pioneer Surgical Technology, Inc. was founded in Marquette, Michigan in 1992. Since that time, Pioneer Surgical has developed successful products in the Spine, Biologics, Orthopedics, and Cardiothoracic markets. Pioneer has several facilities throughout the U.S. and in Houten, The Netherlands. The company employs nearly 300 people worldwide. Pioneer's state-of-the-art manufacturing capabilities differentiate it from others in the marketplace. This vertically-integrated structure greatly enhances Pioneer's ability to take an idea from the drawing board to commercialization. Pioneer demonstrates its commitment to surgical innovation by designing and delivering products that provide intraoperative efficiency for surgeons, cost-effectiveness for the healthcare system and better outcomes for patients. For more information on Pioneer and its products visit http://www.pioneersurgical.com.