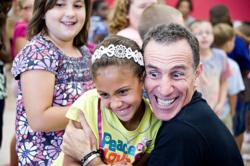 For some, just knowing that there are other kids out there going through the same thing as them can be so comforting.
Arlington, Va. (PRWEB) January 22, 2013
USO's With You All the Way program kicked off the 2013 tour with presentations to military children in North Carolina last week. The With You All the Way program is led by award winning author and illustrator, Trevor Romain. Romain uses humor to help children identify and cope with serious issues such as deployment, reintegration and when a parent returns home with invisible and visible wounds.
On his first 2013 tour stop, Romain delivered presentations to four schools in the Cherry Point, North Carolina area. Cherry Point is home to the Second Marine Aircraft Wing and more than 28,000 military family members. Romain visited with elementary school children, bringing messages of hope and comfort to kids who have experienced deployments, multiple deployments, as well as the visible and invisible wounds of war.
"It is about being real and sharing stories. I mix in humor and encourage the children to express themselves," said Romain. "For some, just knowing that there are other kids out there going through the same thing as them can be so comforting."
The presentations, sponsored by the USO, in partnership with the Comfort Crew for Military Kids, are tailored to children in length and content. Romain opens with kid friendly jokes followed by a showing of the video "With You All the Way! Dealing with Deployment" as well as clips from other Trevor Romain videos such as "Bullies Are A Pain In the Brain" and "Facing Fear Without Freaking Out". Romain encourages children to write and draw as a way to help them identify and cope with their feelings. At the end of each presentation children and educators can ask questions and share their own personal stories.
In the week following the presentations, children will receive the With You All the Way Military Family Empowerment Pack containing videos, resources and a journal to help both children and parents. Romain has been working with the USO for the past six years- visiting military installations throughout Europe, the Pacific and Southwest Asia on eight USO tours.
"Trevor Romain helps these children cope with real issues," said Susan Thomas, Vice President USO Warrior and Family Care. "These families have experienced multiple deployments, bullying in schools and some have parents who returned home from war with visible and invisible wounds. He helps them open up and become more comfortable with themselves and their lives as military kids."
The 2013 With You All the Way tour will take Romain across the United States to visit thousands of children and meeting with educators and parents at military and civilian schools. The next stop is Gulfport, Mississippi where Romain will deliver presentations to eight different schools. For more information about the With You all the Way program visit http://www.uso.org or contact Trevor and the Comfort Crew for Military kids at http://www.comfortcrew.org.
# # #
About the USO
The USO (United Service Organizations) lifts the spirits of America's troops and their families millions of times each year at hundreds of places worldwide. We provide a touch of home through centers at airports and military bases in the U.S. and abroad, top quality entertainment and innovative programs and services. We also provide critical support to those who need us most, including forward-deployed troops, military families, wounded warriors and their families and the families of the fallen.
The USO is a private, nonprofit organization, not a government agency. All of our programs and services are made possible by the American people, support of our corporate partners and the dedication of our volunteers and staff. In addition to individual donors and corporate sponsors, the USO is supported by President's Circle Partners: American Airlines, AT&T, Clear Channel, The Coca-Cola Company, jcpenney, Kangaroo Express, Kroger, Lowe's, Northrop Grumman Corporation, Procter & Gamble, and TriWest Healthcare Alliance and Worldwide Strategic Partners: BAE Systems, The Boeing Company, Lockheed Martin, Microsoft Corporation and TKS Telepost Kabel-Service Kaiserslautern GmbH & Co. KG. We are also supported through the United Way and Combined Federal Campaign (CFC-11381). To join us in this patriotic mission, and to learn more about the USO, please visit uso.org.
About The Comfort Crew for Military Kids
The Comfort Crew for Military Kids is a non-profit organization that supports thousands of military kids each year through programs and advocacy events designed to strengthen their social and emotional resilience. Founded in 2007, The Comfort Crew creates a world where kids feel supported while managing the challenges of today's military life including deployment, reintegration, moving, visible and invisible injuries and grief.
In partnership with the USO (United Service Organizations), co-founder Trevor Romain and The Comfort Crew work directly with military children on and off bases all over the world. Military kids and their families are offered a wide variety of comfort kits and educational resources that are customized to meet their specific needs and let them know – we are With You All the Way! To learn more about The Comfort Crew for Military Kids, please visit http://www.comfortcrew.org.