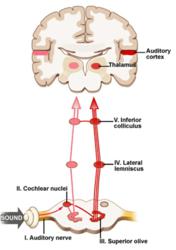 (PRWEB) January 23, 2013
Research has shown that a "whole person approach" to tinnitus works. In this method, patients are taught thoroughly what tinnitus is, how to reduce stress and reinforcement, how to improve sleep, and daily actions that reduce symptoms.
Recall that we are descended from ancestors who developed excellent flight/fight response when they heard sounds of danger. Cognition is used to convince the body that the ringing in the ear is not a tiger danger.
Dr Murray Grossan has taken this Whole Person Tinnitus Relief Program (WPTRP) and made it simple, just like learning tennis. With this method, no tinnitus patient needs to be told that nothing can be done for his/her tinnitus.
In tennis, you are told how to hold the racket, how to turn and how to throw the ball. And you practice. In Dr Grossan's WPTRP program you read his book, Ringing in the Ear –Tinnitus Relief to learn what the actions are. Then you use his app for the smart phone, Ear Ringing Relief to practice these actions. Just as in tennis, the more you practice, the better your results.
In tennis you have a coach; here your mirror shows you if you are doing the tinnitus actions correctly. Your mirror serves as a biofeedback mechanism, just as it is used in tennis to show you if your moves are correct.
Why does the whole person need to be engaged in this therapy? Dr Grossan explains: "Tinnitus is not just an ear or a brain. In normal hearing you have an ear canal where the sound enters, you have an ear drum that vibrates and moves three middle ear bones. These bones are controlled by muscles that are served by the same nerves that serve the face and jaw.
The sound is converted to electrical impulses in the inner ear called the cochlea. These impulses travel to various stations, nerve centers which are also nerve centers for the neck, face and jaw. From these centers the impulse reaches the lower brain and then the upper brain. Every single one of these pathways can affect tinnitus. Therefore it is necessary, as reported in the Lancet study, to provide therapy to the entire pathway. If you omit, for example, the jaw, then other therapies may not be effective.
Just as in tennis, you can read the book and understand all the movements. But if you don't practice those movements, you will not become a tennis player. The app, Ear Ringing Relief (available at iTunes) is on your cell phone and you simply follow the app instructions and perform the correct breathing, visualization, mirror biofeedback and other actions. The app also provides sounds you can use to diagnose your tinnitus and treat it too.
The WPTRP stresses Medication Enhancement. When the patient fully understands a supplement that is used for tinnitus, how it works, what it does, then the brain aids the therapy, so it is more effective.(http://www.grossantinnitus.com)
Dr Grossan reminds us, "In any illness, whether it is rheumatism, hypertension or tinnitus, when the patient takes charge, is fully engaged, then that condition heals faster and better.
Dr Grossan has published his Whole Person Tinnnitus Relief Program for audiologists in the Advance for Hearing Journal: http://audiology.advanceweb.com/Features/Articles/The-Whole-Person.aspx
The Whole Person Tinnitus Relief Program will be presented Nov 2 at 1 PM at Mariosa Women and Family Center 812 E Town and Country Road Orange, Ca 92868
Biography: Dr Murray Grossan is a board certified Ear Nose Throat specialist. He has pioneered in measuring tinnitus and using biofeedback for tinnitus. His other books include: Free Yourself from Sinus and Allergy Problems – Permanently and Stressed? Anxiety? Your Cure is in the Mirror. He has published more than 30 peer review articles in this field.
He practices in Los Angeles at Cedars Sinai Medical.
His, Ringing in the Ear –Tinnitus Relief is Amazon Best Seller.**
*Cima RF, Maes IH, Joor MA, et al. (2012). Specialized treatment based on cognitive behaviour therapy versus usual care for tinnitus. The Lancet. 379:1951-1959