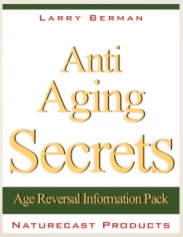 We all have the right to restore our youth, wellness, and live longer lives. This report restores that right.
Fort Lauderdale, FL (PRWEB) January 22, 2013
It's never too late to implement strategies to help slow down the onrush of aging even when we have not practiced the best anti-aging strategies in the past. That's the message that Naturecast Products, a natural health company, wants people to get from their Anti-Aging Report, which has been made available as a free download for a limited time at the web address freeantiagingreport.com.
Naturecast's Products research team announces the release of the long awaited Anti-Aging Report, having spent the last few years critically analyzing hundreds of peer reviewed university conducted studies. Research Team director, Tamara Sanders, explains the intent behind the report saying "we originally came together and made this report because we, as individuals wanted to know the secret to eternal youth. We finally just decided to share this information with the public rather than trying to charge for it because that was the right thing to do. I think we all have the right to restore our youth, wellness, and live longer lives. This report restores that right"
The report describes how natural aging process es are accelerated and contains natural health nutrition and lifestyle tips that the Naturecast research team believes could help reverse accelerated aging.
The report concludes with strategies that people can implement that allow people to:

Put elasticity back into the skin so that wrinkles disappear and the skin surface glows
Grow healthier, glistening hair and nails
Feel energy coursing through your muscles and veins
Have more sexual energy and stamina
Develop a stronger immune system
Lower your cholesterol levels
Build strong and healthy bones
Feel the optimism of youth every morning
To get Naturecast's Products free anti-aging report, and reap the benefits of its well-informed and up to date anti-aging tips, visit http://www.freeantiagingreport.com to download the report for free.
This release has been sponsored by Naturecast Products, a natural health company that wants to help people improve health through natural methods such as natural dietary supplements, exercise, and other natural therapies. Sign up for Naturecast's free Health Alerts, providing unique natural health information, natural health reports, and relevant, up to date natural health news.