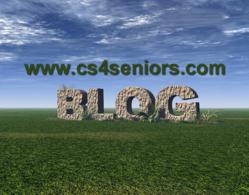 All over the world Boomers & Seniors are using their years of experience to make things happen.
Plano, TX (PRWEB) January 23, 2013
Mimi Witcher, Co-Founder of Computer School for Boomers & Seniors (http://www.cs4seniors.com) announced today that the online computer school has added a blog to their senior friendly campus.
"All over the world, Boomers and Seniors are using their years of experience, creativity and knowledge to make special things happen, said Mimi. "In our Blog we will be sharing the stories, photography, unique images and inspirational thoughts of some of these remarkable "make it happen" people."
Nancy Merz Nordstrom, author of "Learning Later, Living Greater: The Secret of Making the Most of Your After 50 Years" will be sharing her inspirational story along with the benefits of Lifelong Learning each week.
Faculty Member and world traveling photographer Dave Berry will be sharing his valuable photography tips and eye catching photos.
Jane Booras, Editor of numerous Newsletters will tell her tips on how you can find whatever you need on the Internet- photos, clip art, information – to publish your own family, class or church bulletin.
Bill Witcher, Co-Founder of Computer School for Boomers & Seniors will be sharing words of encouragement, inspiration and hope each Sunday.
"In addition to the posts from our Faculty Members, we will also be sharing insiteful and interesting posts from many of our students," said Mimi.
Mimi taught seniors for eight years in the classroom in the Emeritus Program in Dallas, TX. She went from taking classes…to teaching classes…to Teacher of the Year. Now she's teaching Boomers and Seniors online from all over the world. "Why? Because having computer skills can connect you to your friends, family and the world while not having computer skills can disconnect you," encouraged Mimi.
Computer School for Boomers & Seniors has the largest selection of online computer Lesson Plans created specifically for Boomers and Seniors. http://www.cs4seniors.com