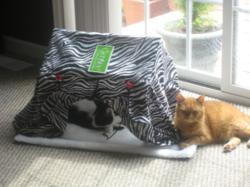 Home sweet Home
(PRWEB) January 23, 2013
There are so many ways to reach out to an audience that sometimes the simplest ways are often the best.
If the response rate is any indication of potential, the recent growing numbers of Facebook Fans is encouraging with an average of over 100 likes daily.
As a small start-up company Smoochdoggie.com has hope that once the word is out to enough cat and pet lovers there is a chance to compete in a world that is dominated by giant retailers.
The first goal is to get recognized as a company that creates products that provide special value and unique products that are fun to own.
The key to success will likely not just be a great idea but tempered with patience, lots of persistence and that elusive thing called luck.
For those interested in learning more about this unique company that still makes products in the US, the following information should help.
The Gypsee® is a product designed with a cat's perspective in mind. The view from inside is fantastic – vibrant prints and unique see thru panels make this a relaxing retreat and exciting playhouse all in one.
Size is such an important factor which is why such an abode must not be too big or too small.
Sleek flowing fabric panels allow for ease of entry and exit along with specially designed vents to allow the occupant to keep a careful eye on the surroundings, a feature that provides exciting hide and seek possibilities.
The colorful fabric covers with bold prints do an amazing job filtering light that creates a retreat like environment especially for cats. The Zebra print Gypsee® has a jungle like effect while the Hippie Gypsee® with its warm red and orange hues create a peaceful ambiance. These features along with a soft mat offer a tantalizing place for a cozy nap or simply a place to hangout.
Cat owners know that cats and kittens love attention and one of the best ways to get a cat's curiosity is to create a sense of intrigue. Cats love variety and one of the easiest ways to build curiosity is by moving the Gypsee® to new locations that are interesting.
A key design consideration was to create a toy that is not only fun but practical enough for everyday use. The Gypsee® is packed with features to appeal to cats and kittens.
The sturdy tubular plastic frame is made to last a long time. The cover and mat are made from high quality materials that make keeping them clean a simple task while providing years of enjoyment.
Appealing to a cats natural desire to sleep coupled with a host of fun features seemed to be a powerful combination that cats would find hard to resist. Owning a Gypsee®is like offering a cat an ongoing invitation to explore, have fun, or simply take a peaceful nap.
The primary goal at smoochdoggie.com is to create exciting products that make cats and their owners happy.
For more details, please visit on the web at Smoochdoggie.com or on Facebook