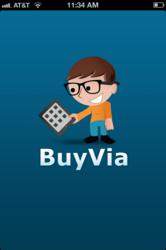 "Whether consumers are searching online or in stores 'showrooming' and scanning TVs for price comparisons, the 55 inch TV is king this year."
San Francisco, CA (PRWEB) January 22, 2013
BuyVia, an app and website that provides the first all-in-one smart shopping experience across devices, today released analytics from the website/app detailing TV purchasing trends as the Super Bowl approaches. According to searches conducted via the shopping site and app, the majority of consumers are searching to purchase a 55 inch TV. Three of the top five most scanned TVs at retail over the last 60 days were 55 inch followed by 32 inch TVs. Plasma TVs were searched for by less than 5% of consumers, with most preferring a LED TV. Additionally, three out of the five most scanned TVs were Samsung followed by LG and Toshiba. This year's Super Bowl between the San Francisco 49ers and the Baltimore Ravens will be played on Sunday, February 3, 2013.
"When it comes to pre-Super Bowl purchases, clearly bigger is better," said Norman Fong, CEO and co-founder of BuyVia. "Whether consumers are searching online or in stores 'showrooming' and scanning TVs for price comparisons, the 55 inch TV is king this year. Of TV manufacturers, the majority of searches were for Samsung TVs over other very reputable consumer electronic companies, including LG and Toshiba. Samsung remains the leader in TVs due to their aggressive pricing, high quality, superior design along with a strong feature list."
Top Five Barcode Scanned TVs at retail:
1) Samsung 55" - 3D LED TV 120Hz
2) Samsung 32" - 60Hz 720p
3) LG 55" - 1080p 120Hz
4) Samsung 55" – LED 1080p 240Hz
5) Toshiba 32" –60Hz 720p
The website analytics found that only 5% of consumers were explicitly searching for a Smart TV or LED TV. Additionally, amongst the top ten most scanned TVs there was only one Sony and one plasma TV, an interesting indication on the possible dwindling popularity of these products. And while not a TV, the analytics revealed that Apple TV digital media player was searched five times more than competitor, Roku.
About BuyVia
Based in San Francisco, California, BuyVia is the only online and mobile smart shopping service that combines intelligent shopping capabilities including a set your price feature, UPC/QR scanning, geo-local deals and wish lists. BuyVia is a combination of hand-curated expertise combined with a custom architecture and uses this technology to uncover reputable products at the best price available. Products and deals will be available through charter partners Amazon.com, HP, NewEgg, PriceGrabber, Dell, Milo, TigerDirect, Sony etc., but because of BuyVia's unbiased approach, any product and deal available anywhere on the Internet will be delivered to shopping app/website users. For more information visit http://www.buyvia.com, like us on Facebook http://www.facebook.com/buyvia or follow us on Twitter @BuyVia.
###