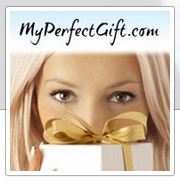 It's Better to Give than to Guess®
Napa, CA (PRWEB) January 23, 2013
MyPerfectGift.com is excited to be awarded the PTPA Winner's Seal of Approval. PTPA Media has North America's largest volunteer parent testing community, with over 60,000 parents, and was rated The Most Trusted Seal by 22,000 parents.
Consumers looking for high-quality products and services can rest assured when they see the PTPA Winner's Seal: it is evidence of a product's excellence from having been evaluated by unbiased parent testers.
As a free universal online gift registry, MyPerfectGift.com offers ease of use and convenience for traditional registry users such as Brides and expectant mothers. But, the website goes further to offer users the ability to maintain year 'round wishlists for all gift giving occasions for everyone who gives or receives gifts.
Adults, and children over 14, can create their own Personal Registry. Children under 14 can create a Kidlet Registry under an adult's account. Parents also have the opportunity to show children the rewards of giving by adding a favorite charity to their gift list.
No personal information needs to be displayed in order to use the registries. It's often a good idea to create your account using your first name, last name and city in order to help others locate your registry if they don't know your email address. But, no one visiting MyPerfectGift.com can find any personally identifiable information that allows them to contact someone who has created a registry.
MyPerfectGift.com was among many entries from across North America competing to earn the PTPA ™ Seal. Independent parent volunteers evaluate products in their own homes to ensure that PTPA winners are chosen based on merit and consumer experience - not on commercial considerations.
PTPA founder and CEO, Sharon Vinderine, has appeared on nearly 60 morning shows as a reliable source for the latest and greatest in family products. The media and parents alike trust the collective opinion that PTPA Media represents.
Being honored with the influential Seal of Approval from PTPA Media Inc. is a huge achievement for a service geared to families, children and parents. "We're not just here to focus on the gifts," says MyPerfectGift.com founder Teri Freeman, "I'm committed to making MyPerfectGift.com a safe, fun and useful place for families and friends to use for the best gifting experience. Being awarded the PTPA Seal of Approval is a priceless confirmation that we're fulfilling our mission."
About MyPerfectGift.com - Gifts That Click®
MyPerfectGift.com is a free online universal gift registry that helps make the experience of giving and receiving gifts as enjoyable as possible. Members can easily share their wishlists with Family & Friends. Check out one of the fun video tutorials.
MyPerfectGift.com works with Celebrities and Charities to bring support, exposure and fund raising opportunities to worthy causes. See Joe Mantegna's Celebrity Registry.
Contact: Teri Freeman 877-77MyGift
About PTPA Media Inc.
PTPA Media provides an objective framework for appraising and promoting new products designed to enrich family living. The company's mission is to marry innovative companies with discerning consumers, to improve consumer access to quality products and services for their families and homes.
PTPA Media Contact Information: Janine Streiter Tel: (905)738-1447x240
for more information visit http://www.ptpamedia.com