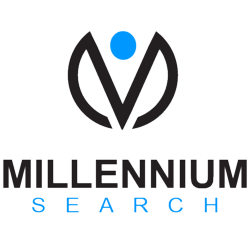 Our customers remember us because of the results that we deliver.
Charlotte, NC (PRWEB) January 23, 2013
Millennium Search, an executive recruiting firm focused on securing top talent for technology companies, is poised for a strong year. The search firm experienced substantial success in Q4 of 2012, and is seeing strong growth already in Q1 of 2013.
"We've seen a surge in the demand for our services already, and are seeing a year over year increase in business from this time last year", says Amish Shah, CEO of Millennium Search. "We create exceptional results, and our quality of service continues to pay off. We maintain a strong presence in the tech and startup communities, and are seeing a larger volume of organizations searching for us by name."
Shah credits January's strong numbers to several factors. The demand for high quality talent continues to grow in the technology industry, despite economic conditions that remain sluggish, and new markets continue to emerge within the sector. Although overall job growth in the U.S. economy remains low, employment for professionals within the tech community remain stronger than the average, with numbers that reflect a stronger recovery than from previous recessions.
He also looks within his own company, citing the growth of the Millennium Search recruiting team, their access to the right networks and technologies, and their reputation among startups, tech companies, and prominent venture capital firms. The company entered Q1 with a team of 8 veteran technology recruiters.
"Our customers remember us because of the results that we deliver," says Shah. "We stay focused on our niche, keep the right strategy in play, and take the right actions for our clients. We enjoy seeing today's technology companies grow and do big things, and we are thrilled to be a part of that. It is that passion that set's us apart in this industry."
Millennium Search saw the addition of several new clients in the latter part of 2012. Additions include data companies GCE and Alpine Data Labs, open source and cloud computing companies Sios Technology and Loggly, security company NetAuthority, health and fitness startup Greatist, online tour booking company Viator, direct marketing company Harte Hanks, and financial services' companies Chopper Trading and Akuna Capital.
About Millennium Search
Millennium Search is a boutique executive search firm dedicated to the ethical, rapid and successful placement of top-tier talent in Fortune 500 technology companies worldwide, as well as start-ups backed by top venture capital firms like Greylock Partners, Index Ventures, Accel Partners and Union Square Ventures. For more information, visit http://www.msearchllc.com.