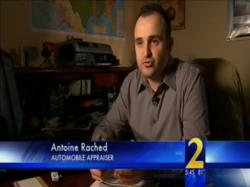 (PRWEB) January 23, 2013
An automobile is declared a total loss when the cost of repair exceeds a certain amount; the total loss threshold.
By law insurers are required to bring back whole the vehicle owner. This is accomplished by paying the actual cash value of the vehicle plus applicable tax.
Vehicles can be declared a total loss for a variety of losses, including collisions, fire, unrecovered theft, flood and natural disasters.
Normally, after a loss is recorded, insurers will dispatch an auto damage appraiser to assess the damage severity. As a guide, if the cost of repair exceeds 75% of the cash value of the vehicle, the insurance company will declare it a total loss. Some states mandate that vehicles suffering a major accident be declared totaled and issued a salvage title.
To determine the cash value of the vehicle, insurance carriers usually run the vehicle identification number (VIN) through a third party company, the top three insurance affiliated valuation companies in the United States are: CCC, Audatex and Mitchell. These third party companies will provide the insurance carrier with an appraisal report containing the vehicle description, options, condition, comparables and the actual cash value.
Depending on the vehicle, these third party valuation reports can have a margin of error of up to 20%. To remedy this gross underpayment, vehicle owners should reject with these reports until they can independently verify their accuracy by hiring an independent total loss auto appraiser.
Most insurance policies contain language that allows the use of an outside auto appraiser, this falls under the policy's appraisal clause. This is a right insurance holders possess but most don't take advantage of.
Independent auto appraisers will conduct a more thorough analysis of your vehicle, examine all options, upgrades and equipment. In addition, it is very important to properly document the vehicle's condition and recent repairs.
For more information about obtaining an independent auto appraisal report, please contact Antoine Rached at 1-877-667-2326 or visit http://totaled.us/.