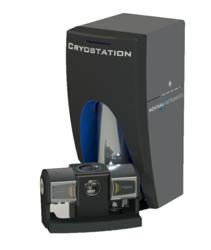 Researchers working in spintronics, magnetic quantum dots, and magnetic nano-structures will find this tool invaluable
Bozeman, MT (PRWEB) January 21, 2013
Today, Montana Instruments, a leader in the field of cryogenic optical measurement, announces the release of the Magneto-Optic Module, a powerful add-on module to their closed cycle optical cryostat, the Cryostation. The ground-breaking research behind the Magneto-Optic Module allows researchers to accurately control magnetic field as part of their investigations of nanoscale physics behaviors.
The Cryostation controls temperature down to 3 degrees above absolute zero, where atomic motion is reduced 100x from room temperature producing an environment where stable electro-optical measurements can be made. Integration with the Magneto-Optic Module allows researchers to measure and control magnetic, electric, and light interactions at the atomic level.
"The unraveling of the mysteries of nanoscale materials is being called the new frontier of material science. Researchers around the world are studying the magnetic properties of materials and impurities to develop the building blocks for faster computers with ultra-small scale components, denser memory storage, and more secure communications," stated Brian Smithgall, Montana Instruments Director of Business Development. "Researchers working in spintronics, magnetic quantum dots, and magnetic nano-structures will find this tool invaluable," Smithgall continued.
Features include a bi-polar power supply which allows the user to scan a magnetic field through zero. A Hall probe sensor is included to allow for easy calibration scans, yielding immense flexibility to the researcher in selecting the magnet pole configuration. In a standard configuration, the field reaches 0.7 Tesla with temperatures as low as 3.0K and field control of 5 microTesla.
The addition of the Magneto-Optic Module is another advanced solution in the Montana Instrument's line and follows in the mission of providing simple-to-use tools for this low temperature research frontier.
About Montana Instruments
Montana Instruments is dedicated to precise and cost effective cryogenic optical measurement solutions for research, industry and education worldwide. With complete solutions and highly advanced optical systems, Montana Instruments products solve the ongoing need for state-of-the-art optical systems with increased performance capabilities and usability.
As the developers of the Cryostation, a highly advanced optical cryostat, the development team has created a closed cycle environment where no costly and hard-to-find helium is consumed. The stability of 5nm peak to peak is unmatched in the industry. Adding sought after automation, temperature control and access, the Cryostation keeps costs down and allows research teams to the access and reliability required to conduct experiments with confidence.
With a mission to constantly improve research instrumentation, Montana Instruments has added the Magneto-Optic Module to their line of products, allowing for low temperature optical research in a magnet field.
Based in Bozeman, Montana, Montana Instruments has defined itself by a passion for innovation, an eagerness to respond to researchers' needs, and a commitment to worldwide support and service.