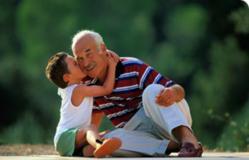 "If my high school classmate got married at age 35 and her child is waiting until 35 to have her first child, then we're about 12 years too early to be seeing pictures of her grandchildren, because just about everyone at the reunion was 58 years old."
Highland Park, New Jersey (PRWEB) January 30, 2013
New Jersey therapist and author Dr. Alan Singer recently predicted that if the trends of delayed marriage and childbearing continue, the sacred institution of Grandparenthood may vanish in America. During Singer's recent 40th high school reunion, he quickly realized, "Classmates were showing toddler and teen photos of their children, while I alone showed photos of my grandchildren."
Singer explains, "In delaying marriage and childbirth significantly, my generation of boomers has thought it natural to wait until 35 or even 40 to marry and start a family. Careers, freedom to travel, searching for the perfect soul-mate are some of the common reasons for delaying…settling down. The disappearance of grand-parenting," he laments, "would be a great loss for American families."
Some of the serious consequences of delayed childbearing, in addition to missing out on grandparenthood, are: augmented infertility, which leads to elevated multiple births, which leads to increased rates of pre-term births and C-sections.
In Singer's article published today on FamilyThinking.com, he describes how passionate people are about this topic. One outraged reader reacting to his advice insists, "Pushy, busy-body parents of grown children continue to nag and harass them into having children they don't want…ever consider that spawning is not the end-all and be-all of marriage, let alone of life?"
In his book, Creating Your Perfect Family Size, Singer encourages couples to proceed slowly and thoughtfully with their family size decision. The take-home message: as many or as few, as long as you think it through.
Here's the scenario that most concerns Singer: "In order to make up for lost time, couples who delay child bearing until age 35 or older, tend to have rapid-fire children that are barely 15 months apart. That's detrimental for the Mom's health, family well-being and most of all the parents' marriage. A space of 2-3 years between children is most beneficial."
Singer concludes with a personal plea to readers: "I'm no expert after five years of grandfathering, but I believe that the end to grand parenting would leave an enormous black hole in our emotional universe."
"Creating Your Perfect Family Size" is the only book ever written that equips couples in deciding how many children to have and the optimal spacing between children. Singer explains that it is a parenting book about marriage that he wrote on behalf of children…..because there is nothing a child needs more, not even a sibling, than for her parents to have a healthy stable marriage.
About Dr. Alan Singer:
Singer is a Family and Marriage Therapist based in Highland Park, New Jersey since 1980 and has an 80% success rate in keeping couples together. He is an Adjunct Professor in the Rutgers Graduate School of Social Work and the Touro College School of Psychology. He is a family & parenting columnist for the Home News Tribune and blogs at http://www.FamilyThinking.com He is an expert in family size decision-making and its impact on marriage.
For related stories to this topic, Singer can discuss:
Your Marriage and Your Children: How to Assure that Both Will Thrive
Newlyweds: When is the Best Time to Start a Family?
What is the Ideal Number and Ideal Spacing of Children?
To schedule an interview with Dr. Singer, please call (732) 572-2707 or email DrAlanSinger(at)aol(dot)com
###