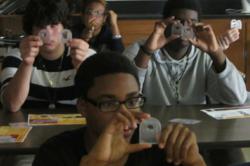 Programs such as this are vital in inspiring the next generation of scientists.
BELLINGHAM, Washington, USA (PRWEB) January 21, 2013
Science, technology, engineering and mathematics (STEM) education and outreach programs designed, implemented, and supported by members of SPIE, the international society for optics and photonics, reached thousands of students and others around the world in 2012.
SPIE provided $3.2 million in support of education and outreach programs in 2012, meeting both its underlying educational mission as well as the desire of its members to give back to the community. SPIE members rate the ability to contribute to the optics and photonics community among the four most valuable benefits of membership in the society.
"As an engineer, I believe that actively participating in science and engineering outreach is a social responsibility that comes with the privilege of having had the opportunity to study engineering," said SPIE Fellow Carmiña Londoño, a U.S. National Science Foundation (NSF) program director who has participated in numerous outreach programs with the society.
SPIE outreach in 2012 took the form of scholarships, participation in regional and national science festivals, educational laser programs in low-income schools, free or low-cost access by researchers in developing countries to the SPIE Digital Library, free educational materials including textbooks, posters, optics and telescope kits, science fair sponsorship and prizes, support for international teacher training and research institutes, travel grants, networking and mentoring events at SPIE events, scholarships, and education outreach grants for student chapters and other groups.
Education outreach grants are an important activity for SPIE Student Chapters, in particular. Chapter projects touched 34,954 people last year. Projects funded range from classroom demonstrations of lasers to multi-day programs in which students get hands-on experience in optics and photonics experiments.
At the Institut de Ciencies Fotoniques (ICFO) in Barcelona, Spain, the SPIE Student Chapter ICONS helped organize a four-day science workshop providing high-school students with lectures and hands-on optics lessons, photonics lab tours, and information about photonic-oriented careers.
SPIE Member Nicoleta Dragomir, a researcher at Victoria University School of Biomedical and Health Sciences in Australia, used an SPIE education outreach grant to supply biophotonics equipment to five schools in regional Victoria. "It's a great opportunity for students to get a feel for how extraordinary science can be," she said. "Whether or not it makes them think about a career in science, it eliminates that fear of high technology."
"Programs such as this are vital in inspiring the next generation of scientists to discover how optics and photonics work and their relevance in solving many of the world's challenges as well as opening up new doors to what was once impossible," said Lisa Tsufura, a marketing and business strategist and member of the SPIE Board of Directors. "These technologies are fundamental in the communications networks that bring information to all parts of the world, enabling medical and biomedical advances, and in improving the quality of life in ways we have yet to conceive."
"The future hinges on our ability to prepare our next generation to be innovators in STEM," agreed SPIE Fellow Michael Postek, a senior scientist at NIST (the U.S. National Institute of Standards and Technology).
Programs make a difference in many ways, with scholarships often giving major impetus to those at the beginning of their careers.
"I feel that every door is open to me," said Maria Serikova, a student at St. Petersburg National Research University of Information Technologies, Mechanics and Optics in, Russia, and winner of the 2012 SPIE D.J. Lovell Scholarship. "All my dreams about attending the largest conferences, meeting the greatest scientists in optics, and internships to the labs of my dreams may come true."
Serikova, an SPIE Student Member, is already looking for ways to help others coming up in the field to succeed: "I will try to be as good example to younger scientists as possible, to motivate them to be active, never stop believing in success and spend time and efforts for education. Because now I know if someone wants to be scientist or engineer there always be people who do care and help."
About SPIE
SPIE is the international society for optics and photonics, a not-for-profit organization founded in 1955 to advance light-based technologies. The Society serves nearly 225,000 constituents from approximately 150 countries, offering conferences, continuing education, books, journals, and a digital library in support of interdisciplinary information exchange, professional growth, and patent precedent. SPIE provided $3.2 million in support of education and outreach programs in 2012.