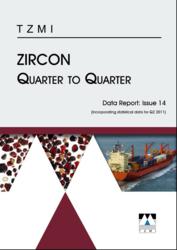 China continued to dominate market share for imports while Australia accounted for the largest portion of trade in Q3 2012
(PRWEB) January 23, 2013
TZ Minerals International (TZMI) has released its latest data report on zircon, Issue 19 of Zircon Quarter to Quarter.
To enable participants in the industry to keep their finger on the pulse of the industry TZMI produces Zircon Quarter to Quarter, a quarterly data report covering activity and developments in the zircon industry during the previous quarter.
Issue 19 reports that in Q3 2012, identified global import bulk volume of zircon sand and concentrate was 21% lower than Q2 2012 levels. Chinese imports of zircon sand and concentrate were down 24% from the previous quarter, while other Asia-Pacific imports were also down 40%. Western Europe imports increased 28% from Q2 2012, however, are still at historically low levels.
China continued to dominate market share for imports while Australia accounted for the largest portion of trade in Q3 2012, followed by South Africa. Western Europe remained the largest exporter of milled zircon.
Zircon Quarter to Quarter Issue 19 includes analysis covering:

Australian production and exports
European demand and milled zircon trade
Chinese demand
Import and Export statistics
World zircon imports by country / region and source country
Country specific trade data
An annual subscription of Zircon Quarter to Quarter is A$4100* with issues released in January, April, July and October. This report can also be supplemented by additional data and forecasts tailored to individual needs.
For information about Zircon Quarter to Quarter or other TZMI data services please visit http://www.tzmi.com.
*For Australian Subscribers – the price shown excludes GST.
About TZMI
TZ Minerals International (TZMI) is a global, independent consulting and publishing company with offices in Australia, China, the US , Europe and Africa. The strength of TZMI's consulting services stems from extensive practical experience in the mineral sands, titanium dioxide and coatings industries and from a comprehensive database, which has been built up over many years.
TZMI has proven expertise gained from our consultants having many years of direct operating experience in the industry in chief executive, senior operational, analytical and marketing roles.
TZMI's publications and data services support the consulting activities and ensure up-to-date, high quality and comprehensive data, analysis and information across the mineral sands, zircon and TiO2 pigment industries.
TZMI provides operational and technical expert advice on many areas including:

Mergers and Acquisitions
Market Assessments and industry analysis
Due diligence
Pre-feasibility studies incl. preliminary capital and operating cost estimation
Competitive cost analysis and benchmarking
Technical reviews and audits
Resource assessments
Physical separation test work
Flowsheet development
Customised data analysis and reporting