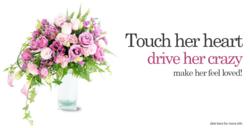 We can deliver flowers, cakes, and wines to China anywhere on the same day.
(PRWEB) January 22, 2013
Valentine's Day 2013 is coming, and all the people are indulging in a happy atmosphere, and flowers are one simple way that a person can show affection and love. Today, YaoFlowers, a reliable China florist, is excited to launch its promotion of flowers and gifts for Valentine's Day, to help people to send flowers to China for their loved ones.
According to Annie Tan, CEO of YaoFlowers.com, all the flowers and gifts from YaoFlowers.com are available at discounted prices now, and they can deliver flowers, cakes, and wines to China anywhere on the same day. The service of sending flowers to Taiwan is also available.
"Valentine's Day is an important time every year, and many people have started planning for Valentine's Day gifts to convey the love message in the most romantic fashion," Annie Tan said, "The promotion will bring our customers great convenience, and help them to save much money."
Robyn, a customer from the Canada, said, "I am just writing to say thank you for the wonderful service you provided. My girlfriend and I live so far apart, and it's amazing that I could send her flowers to her. She was overjoyed. Thank you very much."
In addition, YaoFlowers.com has recently re-designed its online store to greet the shopping wave before Valentine's Day. The updated website is easy to navigate, so that customer can find their dream flowers and gifts easily by searching the flowers by specific criteria such as occasion, color, price, and so on.
About YaoFlowers
YaoFlowers.com started its business from Shanghai flower delivery, and has gained popularity these years due to its romantic flowers and gifts at affordable prices, and fast delivery as well. Besides classic red roses, YaoFlowers.com offers a wide range of flowers and gifts for all occasions.
For more information, please visit http://www.YaoFlowers.com/