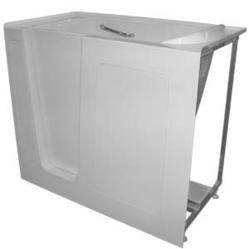 These unique shower pans will be the perfect solution for many applications where walk in bathtubs aren't desired or possible.
Denver, CO (PRWEB) January 22, 2013
Aging Safely Baths & More, a national provider of walk in bathtubs and walk in showers, officially announces that it is expanding its line of senior bathtubs and shower accessories by offering Best-Bath shower pans. The new addition to Aging Safely Baths 'product line enhances safe bathing practices and makes it convenient for customers to purchase a shower pan.
Aging Safely will arrange for installation of walk in bathtubs and walk in showers, or customers can purchase them for delivery only, so customers will want a shower pan that properly fits in the roll in shower they purchase because it will help protect the sub-floor. The correct shower pan will ensure that water on the floor of this specialty appliance will drain properly and not contact the surrounding flooring. Shower pans are installed with a gentle slope, so the water naturally flows toward the drain. When a customer purchases a walk in tub or shower, they will want all of the necessary accessories to arrive together, so it is convenient to schedule installation. Aging Safely will offer the full line of shower pans, so whether customers purchase senior bathtubs or showers, an Aging Safely representative can guide them in selecting the proper shower pan for their shower fixture.
These unique walk in bathtubs have non-slip flooring and grab bars to promote safe bathing. The shower pans also have a non-slip gel coating that promotes safety when entering and exiting. For customers who choose a handicap shower instead of a walk in tub, a quality shower pan is an important accessory.
Aging Safely's walk in tubs feature low thresholds and doors to make entry possible for those with mobility restrictions. When considering the purchase of senior bathtubs or walk in showers, the height of the walk in bathroom fixture can be crucial. Low step pans are available, so customers can purchase a shower pan without worrying that it will make the roll in shower too high to access.
Aging Safely's staff is dedicated to providing customers with many options, including walk in bathtubs, senior bathtubs and walk in showers. Aging Safely's experts offer no obligation consultations and can help guide customers that are looking for information or advice.
Contact Information:
Zach Wennstedt
1-888-779-BATH(2284)
info(at)agingsafelybaths(dot)com