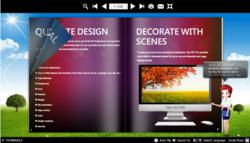 (PRWEB) January 23, 2013
Flipbuilder, the market leader in flip book conversion technology announced today that they had released a corporate edition of their flagship Flip PDF software. This new license will come with five installation licenses, tighter integration with pre-designed templates and scenes and 1 year of cloud hosting.
"We are excited that our growth has been so staggering," says Winston Zhang, CEO of Flipbuilder, "With over 10,000 customers across over 100 countries, our Flip PDF family of products is truly a breakthrough. Now with our corporate edition, we can offer an even better suite to larger companies."
Flip PDF corporate edition is going to give marketing teams the resources to collaborate on flipbooks for product catalogs, sales brochures, eBooks, instruction manuals and any other digital publications that they can think up. With the ability to embed audio, photo albums, video and other forms of rich media, content takes on a new dynamic that increases user engagement.
The ability to host flip books on the Flipbuilder servers also makes it easy to share content across the web without having to interfere with your current web strategy.
About Flipbuilder:
Flipbuilder is dedicated to making the best products possible. From design to delivery we focus on simplicity in use and power in function. Our range of applications includes tools for converting almost any kind of document to elegant flip books.
The flip book software series is ideal if you want to publish eBooks, distribute online magazines, newspapers, business brochures, corporate reports, event leaflets/flyers, annual reports, newsletters, educational books, interactive books, sales slicks, product catalogs, or any other type of multi-page document.