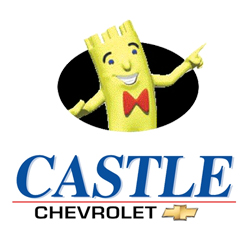 "With BusinessRater.com, we have captured over 200 positive reviews in only months, not years, so it's a virtual no brainer," says General Manager, Bob Politza
Villa Park, IL (PRWEB) January 24, 2013
Quality cars, trucks and service is the name of the game at Castle Chevrolet and because of their need for 5-Star service, Castle Chevrolet of Villa Park, IL has adopted BusinessRater.com as their online reputation management solution of choice.
Castle Chevrolet has carefully focused on their online reputation and have been using Yelp since October 2009. Today Castle Chevrolet has a total of only eight reviews online and fifty-eight (filtered) positive and legitimate reviews! That's over three years of pain & frustration for lack-luster results. "With BusinessRater.com, we have captured over 220 positive reviews in only months, not years, so it's a virtual no brainer," says General Manager, Bob Politza.
Using BusinessRater.com's unique features Castle Chevrolet discovered that 38% of their current customers said they had a friend or family member in the market for a vehicle. In addition to this discovery, BusinessRater.com helped Castle Chevrolet uncover that 46% of their customers found Castle Chevrolet via Internet browsing and only 1% via Auto Magazines.
"It's simple to identify where our most important customers are finding us with BusinessRater.com so we can confidently spend our marketing budget appropriately. BusinessRater.com alerts us real-time while our customer is still in the dealership and this allows us to acquire our future business for far less per customer than traditional marketing and advertising. It's that simple." continues Politza.
In receiving weekly reports & real time alerts from BusinessRater.com Castle Chevrolet can not only measure how their current customers found them, but they can focus on providing their customers with a true Five-Star Customer Experience by attending to unsatisfied customers before they ever leave the dealership. "The fact that we can measure and provide a 5-Star customer experience, allows us to consistently grow," says General Manager Bob Politza.
You can learn more about Castle Chevrolet of Villa Park, IL by visiting their website at http://www.CastleChevyCars.com or seeing their reviews at their page BusinessRater.com.