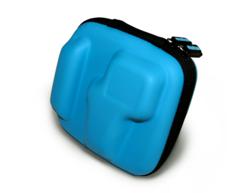 WamBam, Maker of the #1 selling GoPro case worldwide.
(PRWEB) January 23, 2013
WamBam has announced its release of a new travel case for the GoPro Hero3 Camera called the Buffa3. The designer and manufacturer of action camera travel cases and accessories reports it has been developing the new case for several months. Designed to protect the camera lens and housing from damage and scratches, the molded case also offers space for an attached mount, regardless of locked position. There are also separate storage for memory cards and the GoPro Wi-Fi remote.
The Buffa3 GoPro Hero3 Camera case is built for durability during trips in a backpack, a ride in the car, day at the beach, or on a mountain bike. A molded EVA foam construction reinforces this durability, while a form-fitting fabric interior is ideal for ensuring secure storage for the camera when it is not being used. The small form factor of the GoPro case provides for travel convenience and security. Users have the added benefit of an external loop, which can be used to attach a clip for a backpack or piece of luggage. Users no longer have to be concerned about the camera turning on and battery being drained without their knowledge.
In addition, the product is resistant to temperature extremes, so exposure to sunlight and heat, or cold temperatures of aircraft luggage compartments will not damage a GoPro Hero3 Camera inside. With the newest case, camera owners can have peace of mind especially when traveling, knowing that their investment is well-protected and will be ready for operation once the case is opened.
The company also offers the Buffa carrying case for the GoPro HD Hero and HD Hero2 cameras, a Contour line of cases called the Cuvva, as well as upcoming cases and accessories for Sony, GoPro and Contour lines. These cases, and the new Buffa3 travel case are now available for purchase on the company's retail website at http://www.wambamcase.com.
About WamBam
WamBam specializes in the sale of lightweight camera travel cases and accessories for the action camera market. The company offers 3-5 day shipping to the USA, Canada, Australia, Hong Kong. Worldwide shipping is also available with delivery times dependent on location. Gift certificate purchases and redemptions, a personalized shopping cart, order status details, and additional shipping and returns information can be found at http://www.wambamcase.com.
###