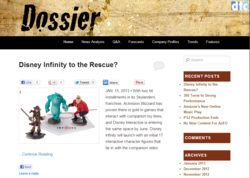 San Diego, CA (PRWEB) January 22, 2013
DFC Intelligence announces the launch of the DFC Dossier online service based on its client newsletter service that covers the business of video games . The new site is accessible at http://www.dfcint.com/dossier. The DFC Dossier has been distributed to, and read by, over 2,000 game industry insiders since 2007. With the launch of the new online site the goal is to expand readership to a larger audience of industry professionals concerned with business issues impacting the video game and digital entertainment industries. Much of the content will be available free of charge to anyone that registers. As always additional content will be available to DFC Intelligence subscribers based on their subscription level.
"For the last six years the DFC Dossier has had great success identifying and profiling hot young startups of vital interest to our clients, including Gaikai, Club Penguin, Funzio, Playdom and many others. In many cases, companies have received significant investments after being profiled in the Dossier," said DFC Dossier editor and managing analyst George Chronis. "Our goal now is to expand our audience and our coverage of the hot new players changing the landscape."
About DFC Intelligence
DFC Intelligence is a strategic market research and consulting firm focused on interactive entertainment and the emerging video game, online game, interactive entertainment and portable game markets. Since 1995 DFC has published in-depth strategic market reports, industry forecasts and subscription-based research services. DFC research is used by more than 300 leading companies in over 30 countries worldwide. Key research topics for 2013 include mobile platforms, online business models, smart TV and of course the ongoing console battle and how the success of companies like Apple, Google, Samsung, Amazon and others could impact the core console game industry.