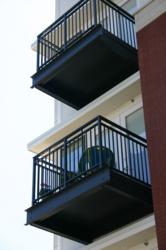 Many of the developers we've talked with recently are excited about saving time and labor on installation.
Las Vegas, NV - International Builders' Show - Booth #C5350 (PRWEB) January 22, 2013
Wahoo Decks announced today from the International Builders' Show at Booth #C5350 the launch of its newest product, Wahoo Complete, a pre-fabricated aluminum balcony for use in multifamily residential communities.
This new product will bring a safe, sustainable and fire-proof option to market for developers of multifamily communities. The Wahoo pre-fabricated balconies include railing, substructure framing and decking, all in one. Developers have the option of two types of walking surfaces, AridDek aluminum decking or DryJoistEZ (U.S. Pat. No. 8,276,344) structural joists with traditional low-maintenance deck board options for the walking surface. Support is dependent on building design, options include either rod hung, knee-braced, post supports or cantilevered beams.
Like other decking products from Wahoo Decks, the Wahoo Complete balcony system is manufactured using 50% post industrial, post consumer scrap aluminum. All balconies are fire-proof, powder coated, marine grade aluminum and are manufactured and assembled in the U.S. Unique to Wahoo Decks, all balcony options are dry-below, meaning, no water, dirt or debris will fall to the balcony below.
"Creating a pre-fabricated offering was the natural next step in building on the success we've had selling into the multi-family market, especially considering many of the developers we've talked with recently are excited about saving time and labor on installation," said Jon Bailey, Vice President of Wahoo Decks. "We are looking forward to bringing Wahoo Complete to market, especially during the International Builders' Show."
Each Wahoo Complete project is custom designed by professional engineers to meet project specifications and building code requirements. Wahoo Decks provides detailed drawings for construction and installation, as well as on-site consultation and training to the installation contractor.
About Wahoo Decks
Headquartered in Gainesville, Georgia, Wahoo Decks is a leading manufacturer of award winning outdoor decking products. Wahoo products have been engineered to be uniquely low maintenance and more resistant to natural elements than traditional decking products. Wahoo Decks offers AridDek, a waterproof aluminum decking product, DryJoist and DryJoistEZ (U.S. Pat. No. 8,276,344), a revolutionary waterproof and structural exterior aluminum joist, and Wahoo Rail, a complete line of aluminum railing kits. For more information about Wahoo Decks, visit http://www.WahooDecks.com.
###