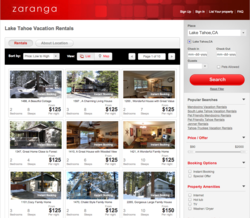 With Instant Booking, Zaranga becomes the ONLY vacation rental provider to instantly confirm offers made by travelers!
San Francisco, CA (PRWEB) January 23, 2013
Zaranga recently introduced 'Instant Booking' which enables travelers to get their bookings confirmed immediately. Instant Booking is available both for bookings at published rates and offers by travelers naming their own price. With the introduction of this feature, Zaranga becomes the only vacation rental provider that allows travelers to name their own price and be able to know the outcome of their offers immediately!
Instant bookings is a major convenience for travelers and Zaranga has added a set of tools for travelers to easily search and identify properties that are eligible for instant bookings.
About Zaranga
Zaranga is the only online marketplace for vacation rentals that allows users to make offers by naming their price. Zaranga is focused on professionally managed properties in getaways around metropolitan areas and currently has properties in vacation destinations around the San Francisco Bay Area. Check out some quality listings from Zaranga - Lake Tahoe Vacation Rentals and Mendocino Vacation Rentals.