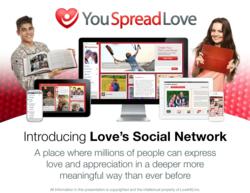 There needs to be more love in the world,and we've created a technology to make that happen
Burbank CA (PRWEB) January 23, 2013
The site, which launches on Valentine's day after two years in the making, is designed to answer a very common problem we can all experience, namely that of saying how we really feel about the people in our lives, and the fact that with all this extra communication taking place on the internet people still seldom take the time to tell each other how they really feel.
The site will launch with two highly viral services that are designed to bring families and friends closer while collaboratively making products known as LoveAlbums and LoveBlasts. A LoveAlbum is a beautifully printed book filled with letters from invited friends and family along with favorite photos. In a shared social site, invited participants are encouraged, with prompting questions and memory joggers, to say all the things we can often regret not having said. The site allows the online group to share each other's stories and photos before the simple to use book editor renders them into a printed book that is shipped in a few days. Receiving a LoveAlbum has been described by a recipient as like having your very own "This is your life" moment.
The LoveBlast service is a similar shared experience, but instead of a book it is a group made E-Card containing messages and photos from many people to one person. Both services are intended for use to celebrate a person's life, achievements, birthday, wedding, retirement, and any other special occasion.
There are other services, equally as viral, planned to be launched later in the year to create more reasons to return to the site which is described by its creator as "The heart of the internet" CEO, Ian Fenn says "Facebook has connected the world, and YouSpreadLove will open its heart." The site is currently raising funds and awareness on the crowd fundraising site indiegogo and is in talks with Venture Capital companies for series A funding.
YouSpreadLove.com has this mission statement: "To help millions of people to express love to the people in their lives in a deeper way than they might otherwise ever have done."