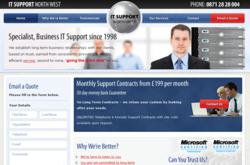 We serve clients and local councils, covering just about every type of industry with clients operating networks ranging in size from 3 workstations to those with upwards of 15 servers and over 250 workstations
Liverpool, Merseyside (PRWEB) January 22, 2013
Liverpool Company ICU has launched a new unlimited IT support package, providing customers with unlimited telephone and remote dial-in support for an affordable fixed monthly fee.
Formed in 1998, ICU has been providing IT support services throughout the Northwest of England, developing a suite of back-office solutions for organisations requiring stock management and distribution and contracts management orientated software.
'Our clients use the software to support contracts for the likes of Yodel, Parcel Force and Tubelines,' explains Tony Walker, director of ICU IT support Liverpool. 'We serve clients and local councils, covering just about every type of industry with clients operating networks ranging in size from 3 workstations to those with upwards of 15 servers and over 250 workstations.'
The launch of the unlimited IT support package aims to allow both start-up enterprises and established companies to budget their finances effectively whilst being assured that technical problems will be solved quickly and effectively without the business being negatively affected by potential downtime.
'For the level of expertise and experience, we believe we offer a very competitively priced service. We always respond within the response times offered – usually immediately or within 5-10 minutes of your support call being registered,' says Tony Walker, provider of IT support Liverpool.
'Most new clients we acquire have paid similar prices to their previous provider but have commented that our service levels and expertise are a massive improvement and a breath of fresh air. They have moved provider because they have been let down so many times in the past.'
The new support service is offered at an affordable monthly fee, and utilises a remote dial-in service as well as a standard telephone help desk for customers to get the technical support they require.
'Our support desk is open 8am to 5.30pm and is manned by technical staff only,' explains Tony Walker. 'Our fixed price, monthly support contracts provide our clients with the peace of mind that they will not receive any surprise invoices as our plans provide unlimited telephone and remote dial in support,'
'At ICU, we felt that a fixed monthly fee for technical support was a better way to present our services to potential clients as they like to have a handle of their IT expenditure and a fixed cost serves this requirement,' With nearly 25 years of experience, Tony Walker was instrumental in developing and maintaining large scale back-office software solutions for the IT industry for many years before forming the Liverpool IT support company, ICU. Today.
'We're always available to offer our customers sound, informed advice too,' says Tony Walker, director of the Liverpool IT support company and supplier of IT support Lancashire. For example, we always advise our customers to ask for a second opinion before purchasing new or replacement equipment or software, as many providers are looking to make or recover profit from selling equipment rather than offering a professional consultancy service and addressing the actual problem that exists.'
'Far too often we take over the support of a network where clients have invested in equipment they did not need or where the equipment or systems have been installed and configured to a very poor standard, effectively negating the initial investment. If we can prevent a company making an unnecessary investment, then we consider that a job well done.'
The current market trend of cloud computing and the transition from local storage to cloud based services is affecting companies across the country, making ICU's launch of their unlimited IT support package a useful resource for businesses reliant on technology to operate successfully.
'Operating within the field we do, and offering our own 'cloud' based solutions, we are very excited about the developing world of 'cloud' based services,' says Tony Walker, provider of IT support Lancashire. 'We also recognise that switching a business to 'cloud' based services does not happen overnight and that there are many factors to be considered, both from a technical and financial perspective, before going down this path. We strongly advise all organisations to take professional advice before embarking on any 'cloud' based solutions, in order to determine the pros and cons, technically, operationally and financially.'
From their offices in Liverpool, Lancashire IT support company ICU serves clients across the North West of England and North Wales, predominantly in the Bolton, Preston, Warrington, Liverpool and Manchester areas.
'ICU is expanding on a steady scale,' says Tony Walker, director of the Lancashire IT Support Company. 'We ensure that our resources are never overstretched – we see this as key to the continued success of the company through happy clients and our new unlimited IT support package further supports this ethos.'
This press release is part of an SEO campaign by Bolton Web Design and SEO specialists - Vizcom.