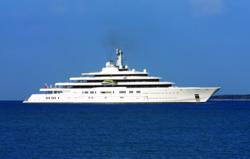 London, UK (PRWEB UK) 23 January 2013
When Boat International's Top 100 was first put together in 1990, the smallest vessel to make the list was the 44.83 metre Paraiso; this year's No.100, Ilona, comes in at 73.69 metres overall length.
"We can see from our statistics that there continues to be a steady number of 70 metre-plus yachts built each year, with new design ideas passing down to smaller projects," comments Tony Harris, CEO of Boat International Media.
"We pride ourselves on producing the most current data in the industry," Harris concludes.
"It is impressive to see how the average size of the Top 100 largest yachts has grown in the last few years," says Tim Thomas, Editor of Boat International, "and the most amazing thing is that, in spite of the 2008 crash and the GFC, the number of new yachts being built at the very top end shows no signs of slowing down."
Expected deliveries for 2013 show how the size of the 100 largest privately owned superyachts continues to grow.
Due for delivery in 2013 is the 180 metre motor yacht Project Azzam, set to become the world's largest private yacht; she is 17.5 metres longer than the current No.1, 162.5 metre Eclipse owned by Roman Abramovich. Project Azzam, under construction in Bremen, has exterior design by Italian studio Nauta Yachts.
The first Lürssen scheduled for 2013, Project Niki, at 85 metres should also impact the next Top 100 List. As with most projects from the German yard, it is shrouded in secrecy, but is expected to be launched in the spring. The boat has an exterior design by Epsen Øino, an interior by Aileen Rodriguez and is under the management of Master Yachts.
Notable yachts in this year's List include the 147.25 metre Lürssen Topaz, at No.4, with exterior design by Tim Heywood and an interior by Terence Disdale; and Hampshire II, a 78.5 metre yacht designed for a sports-loving owner. Hampshire II has its own basketball court and features a helicopter platform that can be transformed into a playing field for basketball, tennis, baseball, badminton and football.
The fastest yacht in the Top 100 is the Feadship Ecstasea, which can propel her 85.95 metres to 35 knots. Another Feadship in the List, 78.2 metre Venus, is widely purported to have been ordered by late Apple founder Steve Jobs. Philippe Starck styled the unusual exterior and the interior with the owner, and she was engineered by De Voogt Naval Architects.
The fact that the entry level size for the Top 100 list is growing year on year reflects a more general trend in the superyacht industry, which has seen the average size of superyachts increase significantly over the last two decades.
ENDS
For further information regarding this press release please contact Zira Skeats, Head of Digital Marketing on: zira(dot)skeats(at)boatinternationalmedia(dot)com
For the full list, go to boatinternational.com/top100
About Boat International Media
Boat International Media is the world's leading media group servicing the superyacht industry, publishing the world's best superyacht magazines and luxury books. It organises high quality events, and provides digital media services and data to owners and professionals in the superyacht industry. Boat International Media produces more than 1.4 million magazines each year, which sell in more than 57 countries worldwide and are published in six languages.