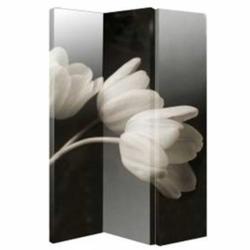 Flower Art Room Divider
(PRWEB UK) 24 January 2013
FurnitureInFashion, one of the largest suppliers of furniture in the UK, is pleased to announce the launch of four extremely stylish and unique room dividers for living room. Home owners can now make their living room not only stylish but multifunctional as well with elegance and style. The partition is done either for style or to create some privacy in a living room. The room divider collection at FurnitureInFashion offers extremely unique and stylish designs in durable material. The four stylish and unique room dividers launched by FurnitureInFashion include Black and White Rose room divider, Flowers Art room divider, Tower bridge room divider and Osaka 4 Panel Bamboo room divider. These four room dividers are available in neutral colours and are ideal for any contemporary and modern living room. The Managing Director and CEO of FurnitureInFashion, Asad Shamim, commented, "Those who want their living room to do double duty- create a style statement and create some privacy in style- need to look for something a little more than sofas and other accessories. Room dividers are definitely meant for home owners who want to make their living rooms more functional. These four room dividers have been designed to complement the overall look of a modern and contemporary living room. We hope to receive a positive response from our customers."
Black and White Rose room divider is a dazzling piece of furniture that allows the home owners to update or enhance living room décor along with creating space. This contemporary room divider has an eye catching design and is extremely pleasant to the eye. It has a trendy combination of black and white rose designs and foldable function. The height of this room divider is ideal for creating complete privacy in a living room. The foldable design allows it to be folded to one third of the original length. It is an ideal purchase for a living room with contemporary design and enough space.
Flowers Art room divider is a modern and most flexible room divider and is an ideal way to bring a contemporary, delightful and functional ambiance to a room. It is a beautiful piece of furniture with excellent artistic finish in flower design, three panels and one sided white flower print. The striking combination of white and black surface makes this beautiful divider an eye catching addition to a living room. The three panels of this room divider can be folded as per requirement.
Tower Bridge room divider is an excellent way to bring unique decorative twist. This marvelous room divider is a contemporary piece of furniture and can be eye pleasing and multifunctional. It has a distinctive tower bridge scene printed surface which has a foldable design. It can be folded to one third of the original length. This beautiful room divider is ideal for modern homes with a touch of funky décor. The height of this room divider is ideal for enhancing privacy. Tower Bridge room divider can be an artistic addition to any room.
Osaka 4 Panel Bamboo room divider is a stunning combination of beautiful mottled flat bamboo and dark slating and walnut timbers. It can be used in number of creative ways to enhance the interior décor of living room. It has four panels and can be folded in both directions.
All these four room dividers are available at extremely affordable price. FurnitureInFashion offers a free home delivery service for its customers based in the UK. Customers can browse through the extensive catalogue of room dividers offered by FurnitureInFashion on company's website.
About FurnitureInFashion
FurnitureInFashion is a UK based online retail business. It supplies furniture items from its German based warehouse and has a showroom in Bolton, UK. The company provides everything from umbrella stand, wall art and room dividers to bedroom, bar stools and computer tables. FurnitureInFashion offers excellent free delivery within UK and has a fantastic customer service as well. For further information and details about the sale, please visit http://www.furnitureinfashion.net