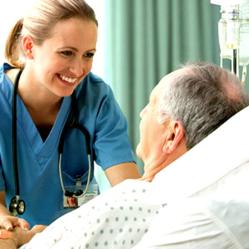 In some trusts, patients simply aren't receiving the care that they deserve. This negligence can lead to patients contracting pressure sores that can have a dreadful impact on the remaining years of their lives
Bolton, UK (PRWEB UK) 31 January 2013
Pressure ulcers, also known as pressure sores or more commonly as bed sores, are still a big problem for the NHS [2]. Not only do they increase NHS costs through bed sore claims, but the treatment costs are thought to cost the NHS over £4bn [6]
According to a report by the HSJ (Health Service Journal), based upon data collected by Dr Foster Intelligence's Real Time Monitoring (RTM) tool, the problem is in fact much worse for some authorities than it is for others [3].
The analysis is based upon statistics submitted by each trust, where the reported number of pressure sore cases is compared with the expected number for the same period. In this analysis the Royal Bolton Hospital had expected 32.1 cases, but according to the data, they reported 107 cases [3].
Ms Heidi Maguire, the Clinical Negligence Manager at Asons commented that:
"Pressure sores are a big problem that the NHS is going to great lengths to resolve [4], yet in some trusts, patients simply aren't receiving the care that they deserve. This negligence can lead to patients contracting pressure sores that can have a dreadful impact on the remaining years of their life. Not only are pressure sores painful and uncomfortable, but they also increase the risk of infection"
The problem with bed sores is that they can be remarkably difficult to heal. This problem is compounded by the fact that they often occur in elderly patients who typically have slower healing times, who suffer from less effective circulation and nutrition of the tissues.
"Prevention is the best way to combat the problem. NICE guidelines state that once a patient is found to have a bed sore, they're to be granted access to specialist mattresses and cushions that encourage airflow and better distribute pressure [5] of course these guidelines only really take effect once a bed sore has developed. NHS guidelines do recommend turning the patient every two hours, but this doesn't always occur" adds Ms Maguire.
One such case was reported by the Staffordshire Post, wherein a 95 year old man died just days before the Christmas of 2011. Whilst in hospital, pressure sores were evident on his body, but were not disclosed to the family. These rapidly became worse just days later. The family of the patient have since drafted in clinical negligence lawyers to find out whether he was properly treated [1].
"Whilst this is just one case, there are a number of other victims who have also suffered at the hands of poor nursing or negligence, and where this happens, it comes down to friends and family to seek recourse. I would advise anyone who suspects negligent medical treatment to contact a legal specialist, just to be sure" says Ms Maguire.
If you'd like to find out more about Asons Solicitors, or if you would like advice concerning a bed sore claim; you can visit them at http://www.asons.co.uk, or you can contact them directly on 0844 850 1062.
NOTES FOR THE EDITORS:
[1] "Family angry at pensioner's care" – thisisstaffordshire.co.uk, 2013: [2 "Figures show large differences between trusts in pressure ulcer numbers" - nursingtimes.net, 2011: [3 "Patient Safety Indicators - Decubitus Ulcer - North West SHA" - Health Service Journal, May 2011: [4 "Pressure Ulcers" – NHS, 2012: [5 "CG29 Pressure ulcers: The management of pressure ulcers in primary and secondary care" – NHS, 2013: publications.nice.org.uk/pressure-ulcers-cg29/key-priorities-for-implementation
[6] http://www.npsa.nhs.uk/corporate/news/nhs-to-adopt-zero-tolerance-approach-to-pressure-ulcers

About Asons Solicitors:
Asons Solicitors is a Bolton-based law practice that specialises in personal injury and industrial disease claims. Founded by brothers Imran Akram and Kamran Akram, Asons Solicitors has developed to become a young and dynamic law firm that delivers practical solutions to clients in times of difficulty. Their continued focus on their staff has seen them awarded with the Investors in People "Gold Award"; which is reflected in the professional and personable approach they take in working with clients. They strive to grow and to develop, and their supportiveness and attention to detail ensures that their clients use them time and again.
For further information contact:
Email: info(at)asons(dot)co(dot)uk
Website: http://www.asons.co.uk