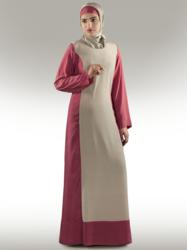 Any Size, Any Length; We Customize for YOU
(PRWEB) January 22, 2013
Get into the community of heavenly and sensitive abayas, Hijabs, kurtis, and Jilbabs, each of them holding an excellent reflection of developing skills and exclusive inspiration across the Muslim female. This stylish clothing variety for Muslim females comes in all styles with a range of customization and budget. As visitors press on this numerous segments, they will discover a collection of females clothing that makes their unique style statement. MyBatua online store provides Islamic clothing with a modern look. Jilbabs created from selected fabrics and with modern texture.
At MyBatua.com, a comprehensive variety of Islamic garments is accessible as Muslim women and men use various types of Islamic apparel. The collection provides suitable all weather Islamic cloths, woven and knitted materials to support any weather. Mybatua is highly pleased to give its customers the most effective and affordable choices of stylish Islamic women clothes. The Store merges the most recent worldwide fashion styles from the finest and most sensitive embroideries and elaborations in customized designs. Customers may also avail a large choice of modest Islamic tunics, kaftans & skirts.
AT MyBatua.com garments professionals provide Islamic clothing to both males and females, who discover that their trust motivates them, outfit slightly, without having to compromise design and style, beauty and custom. These clothing also involve designer purses and handbags that are made to cater to the largest market demands. While searching stylish, customers can buy these cloths to accomplish the regional system. The women apparel selection at Mybatua involves long denim dresses, pleated dresses, A-line dresses, and flared skirts also. Mybatua is the proud suppliers of Islamic female garments just like baju kurung or shalwar kameeze. The thobe is a different type of Islamic clothing utilized by men and this clothing covers the whole body.
About Mybatua:
Mybatua.com is your one-stop location on the internet for an entire variety of Islamic styles for men, females and kids. In addition, Mybatua provide a entire collection of accessories just like handbags, designer purses, clutches, hijabs, scarves, stoles and a lot more.