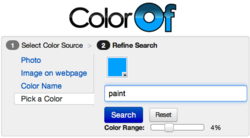 providing easier methods to input a color, really helped (the users).
Huntington, New York (PRWEB) January 22, 2013
ColorOf.com, the website that lets users search by any color, has just launched a highly-requested new user interface with click color input. The new user interface is significantly more intuitive than the previous generation. Click color input aims to help users quickly select a color they love and perform a search for items in that color.
"We did a lot of user testing with our original user interface and people just weren't getting it. At first we tried to make the website look a lot like any other search engine, but it's really very different. It's a color search engine. We found by showing users the type of things they could search for by color and providing easier methods to input a color, really helped." says Melissa Ramos.
The new ColorOf interface is meant to be very responsive. Leveraging tiles to show off individual electronic swatches makes it easier for the website to adjust to almost any screen format. Users can select a color from a photo on their desktop or an external website by pasting the URL into the search bar. They can also click a color they would like to search for. Once the user has selected a color, they simply type in the keywords for the item they are looking for in that color and click search.
The developers of ColorOf.com hope the new user interface will appeal to the many visually-oriented shoppers who want more precise matches by color. "We will continue to listen to our users and make improvements to the website, making it easier to shop by color." says Melissa Ramos
About ColorOf.com
The ColorOf.com website lets users visually search and shop by color, bringing them matching items in the color range they are looking for. The goal of the developers is to continuously add improvements and new features to the website making it easier to search by any color.
For more information, please visit http://www.colorof.com