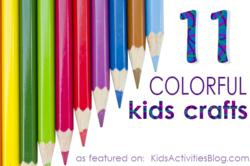 A colorful spaghetti and alphabet sensory tub will make a great teaching tool to teach toddlers the colors of the rainbow.
Dallas, Texas (PRWEB) January 30, 2013
Super creative craft ideas for kids to learn the colors of the rainbow have just been released on Kids Activities Blog. Keep the markers and crayons in the drawer and get inspired with these artistic ways to do colorful projects.
Make puffy paint and let the kiddos have a blast. Ingredients to make the paint are water, flour, salt, and food coloring. Let the kids draw pictures on card stock or paper boards. Put the drawings in the microwave and let the kids be amazed when their creations rise.
Or let the kids have fun by making colorful creations on the windows with DIY window paint. Simply mix hand soap, corn starch, and some food coloring and ready is the fun colorful project.
Another clever idea is melting crayon projects. Simply crunch up old crayons, mix the colorful pieces according to the kids favorite colors in silicone forms and bake in the oven. The crayon pieces will melt and shape into new life.
An unusual and colorful sensory tub is another great idea. Simply color spaghetti or other pasta and mix these together with colorful letters in a tub. The tub will provide an unusual teaching tool to teach the colors of the rainbow to the toddler.
Make colorful science bottles by teaching about fluids and density to school age children. The colors will help to guide the science experiment.
For a complete set of instructions and to read about more colorful projects, check out Kids Activities Blog. Come get inspired and let the kids have fun with colorful projects.
About Kids Activities Blog
Kids Activities Blog is a website created by two moms (who collectively have 9 children), Rachel Miller and Holly Homer from June Cleaver Nirvana. It is their daily goal to inspire parents and teachers to play with kids. This interactive website publishes simple things to do with kids twice a day. Kids Activities Blog is a great tool for moms and teachers to find kid-friendly activities that create memories and sneak learning into the fun.