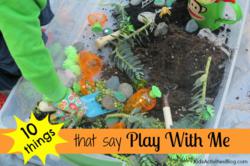 Rubber gloves filled with surprises will create cool sensory toys for toddlers.
Dallas, Texas (PRWEB) January 31, 2013
Kids love to find items that shout out Play With Me. Kids Activities Blog has released a list of the top 10 things that say Play With Me and a resourceful gallery of coloring pages and activity templates for all kinds of occasions and for all kinds of ages.
Among the "invitations to play" are preparing DIY play dough with different smells, colors, and textures for the kiddos, making a fabric collage with fabric scraps and glue, playing with a basket of scarves and clothespins, turning a cardboard box into anything, a car, a colorful hiding place, or turning it into sticker haven.
Kids love to play with bubble wrap, too. Why not make a bubble wrap path or road inside the house? The imagination has no limits and all items can be easily found inside the home.
Let the kids imagination roar with super cool coloring pages or activity templates during all sorts of gatherings. Kids Activities Blog provides a gallery of templates with all kinds of themes for the whole year.
Check out the free coloring pages and templates and browse the ingenious ideas to color the pages not with crayons or markers. The out-of-the-box ideas to color range from gluing flat colorful marbles to outlining the pages with colored glue to turning the pages into cool 3-D art. The imagination has no limits on Kids Activities Blog. Come get inspired.
About Kids Activities Blog
Kids Activities Blog is a website created by two moms (who collectively have 9 children), Rachel Miller and Holly Homer from June Cleaver Nirvana. It is their daily goal to inspire parents and teachers to play with kids. This interactive website publishes simple things to do with kids twice a day. Kids Activities Blog is a great tool for moms and teachers to find kid-friendly activities that create memories and sneak learning into the fun.