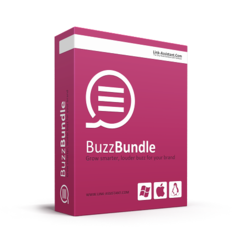 We already have the Big Four on the list: BuzzBundle supports Twitter, Facebook, Google Plus and LinkedIn, not to mention thousands of forums, blogs and Q & A sites.
Minsk, Belarus (PRWEB) January 23, 2013
Link-Assistant.Com, the software house behind the de facto standard SEO and social media management tools, announced today that one of their flagship products, BuzzBundle, now supports LinkedIn. LinkedIn has become the fourth major social network to be added to BuzzBundle list. To date, the tool has already been supporting Facebook, Twitter and Google Plus, not to mention thousands of forums and blogs.
*Why LinkedIn is vital for social buzz*
There's hardly any need to advertize LinkedIn: figures speak for themselves. As of January 9, 2013, LinkedIn has 200,000,000 members, the majority being seasoned experts. Whatever industry and niche BuzzBundle users target, they'll find top influencers and thought leaders right there, in LinkedIn. In addition, with BuzzBundle, they'll get a convenient way of generating professional and multi-faceted buzz in LinkedIn.
*How exactly BuzzBundle helps generating buzz in LinkedIn*
BuzzBundle addresses users' LinkedIn strategy in five different ways.
Firstly, users will track all the discussions, associated with their brand and keywords, right in BuzzBundle stream. Reacting or ignoring is up to a BuzzBundle user, but one thing is certain: not a single important talk will be missed.
Secondly, users will have an opportunity to leave comments and join discussions on LinkedIn without even leaving BuzzBundle workspace.
Thirdly, they'll be able to manage their Linkedin profile updates right from BuzzBundle.
Moreover, if an SM manager runs several LinkedIn profiles at once, they can easily manage the number of LinkedIn accounts they need. Managing several profiles is not rare in large companies, where CEOs and other public figures confide building their social media presence with experienced SM managers.
Finally, BuzzBundle can be used to schedule LinkedIn messages, an important feature for users seeking consistent LinkedIn presence.
"Adding LinkedIn to BuzzBundle is yet another illustration of our commitment to grow BuzzBundle's list of supported social platforms and make the software of superb use to our customers," says Viktar Khamianok, CEO, Link-Assistant.Com.
"We already have the Big Four on the list: I mean we support Twitter, Facebook, Google Plus and LinkedIn, not to mention thousands of forums, blogs and Q & A sites. The list of supported platforms is already impressive, but we're going to add new sources on and on. Stay tuned for Youtube, Orkut, XING, Quora and more!"
BuzzBundle is available for free download at http://www.link-assistant.com/buzzbundle/download.html.
Keen on internet marketing software? Say hello to Link-Assistant.Com on Facebook fb.me/LinkAssistant, Twitter @LinkAssistant or Google Plus gplus.to/LinkAssistant.
*About Link-Assistant.Com*
Started in 2005, Link-Assistant.Com is the software house, focused on creating software for bloggers, online marketers and social media enthusiasts. The company's products include 1. SEO PowerSuite (all-in-one desktop SEO software) and 2. BuzzBundle (desktop social media management app). To be in the know of Link-Assistant.Com's news, read the company's blog.
Contact: Ekaterina Stepanova, [email protected] +375296580408