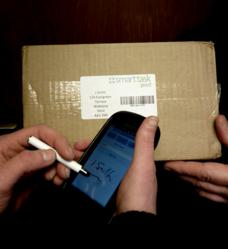 High Wycombe, Buckinghamshire (PRWEB UK) 24 January 2013
This latest development from the mobile solution provider is designed to help businesses better manage staff taken on during peak periods, without the cost or risk of providing new hardware.
SmartTask POD enables couriers to download software to the incumbent worker's smartphone via the app store. Staff then log in via their secure credentials and are ready to begin work.
Paul Ridden, Managing Director of Skillweb, stated: "As we have worked within the express parcels industry for over 8 years now, we have identified that the sector has a significant challenge when extending the reach of electronic POD solutions to temporary, agency and part time workers. SmartTask POD is designed to help address this issue and allows express parcel carriers to reap the benefits of the consumerisation of IT by utilising Smartphone technology. Workers can use their own hardware to capture checkpoints and POD signatures on behalf of the carrier.
"Traditionally carriers would purchase contingency devices to cover peak or fall back to paper when there were not sufficient devices to go round. Both approaches are costly and bring additional headaches, either with additional and more complex device management or the loss of management control and accuracy associated with paper. SmartTask POD will allow the temporary, agency or part time worker to download the SmartTask POD app on to their own Smartphone at no cost, they can then deliver parcels and capture POD signatures.
"The system will enable the carrier to engage with the worker and approve them as a valid source of POD signatures and from that point on receive electronic checkpoints and POD signatures without the cost of investing in an extended estate of mobile devices or the overhead and loss of management control that comes with paper signatures."
Trevor Snaith, Head of Marketing at Skillweb, said "We are currently meeting with the leading carriers to explore how we can integrate the new product ahead of 2013 peak. The new product is being well received by the leading carriers. Carriers and couriers looking to be early adopters should contact Trevor on 08700 707077 or email 'trevor.snaith@skillweb.co.uk'.
SmartTask POD: A new approach to Peak?
SmartTask POD is the perfect contingency backup solution for couriers and carriers. Drawing on the latest in smartphone technology, it enables parcel delivery companies to better manage stresses and peak periods.
The application also makes it easier for businesses to use temporary workers, by removing the need for a rugged handset, which are costly and are often not returned.
However, SmartTask POD functions the same as any proof of delivery system: Couriers and carriers are able to scan parcels, create exceptions and capture signatures upon successful delivery.
Capable of deployment across platforms, businesses can pick and choose the most suitable handset for each employee, be it rugged, semi-rugged or even a phone or tablet.
SmartTask POD is available as a standalone reporting module and will integrate seamlessly with existing tracking solutions, such as Houndit Enterprise.
Opting to combine SmartTask POD with an existing Houndit system will ensure businesses can benefit from the functions available with this technology.
When consumers choose their delivery option during a purchase, the information sent to a carrier relating to the order is used by Houndit to generate a communication to the recipient via email or SMS stating an approximate delivery slot.
This is based on how long it takes to get from a warehouse to the customer and significantly enhances the end user experience. What's more, it enables companies to differentiate themselves from their competitors, improving visibility at all stages in the delivery process.