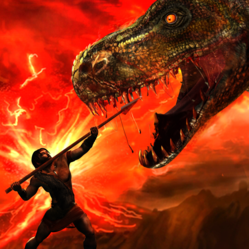 (PRWEB) January 23, 2013
A new game for the iPhone, iPad and Android devices places the player in a caveman's shoes to hunt stegosaurs, pterodactyls and tyrannosaurs. TRex Hunt is now available in the iTunes App Store and Google Play for $1.99.
The game uses 3D graphics to immerse the player in the ancient world. The player can explore an entire island in every direction, avoiding or confronting dinosaurs as they approach.
But this is no simple hunt. Boltar, an evil caveman, has kidnapped the player's mate and a rescue must be mounted. Between the player and the island where she is being held are many flesh eating dinosaurs, including the mighty Tyrannosaurus Rex.
The player begins with a simple club to hunt his prey. As the player progresses, he can purchase more and deadlier weapons using the bones of animals he's killed. Each level makes more weapons available, including:

Rocks
Spears
Bows & arrows
There are even arrow upgrades, including fire tipped and broad head arrows for increasing the lethality of each strike. A healing herb can restore some health the player might have lost to a dinosaur attack, and scent killer hides the caveman's odor from the noses of predators. The more the player keeps in his inventory, the more likely he is to survive.
In the real world, of course, prehistoric man and dinosaurs did not exist at the same time; they were separated by tens of millions of years. In TRex Hunt, however, the two are thrust together in a battle for survival. If the player's primitive weaponry skills can overcome the raw strength of the many tyrannosaurs he encounters, he will live another day.
TRex Hunt was created from the chronicles of Tim Wells, the world's greatest primitive weapons hunter. Learn more about him and enter to win cash and prizes at http://www.timwellsbowhunter.com.
This app was developed for Tim Wells by Zco Corporation, one of the largest mobile app developers in the world.
iTunes link: https://itunes.apple.com/us/app/trex-hunt/id589348841?mt=8
Google Play link: https://play.google.com/store/apps/details?id=com.huntex.trexhunt&hl=en