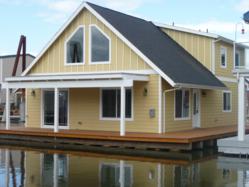 I bought a Wood-Mizer to produce long timbers for under my floating homes when I build them.
Battle Ground, Washington (PRWEB) January 23, 2013
Every two years, Wood-Mizer, the industry leader in portable and industrial sawmills, holds a national contest for more than 40,000 customers to find sawmill businesses that truly are a cut above the rest. Derek Morrell, from Battle Ground, won second place in the category for businesses running Wood-Mizer's portable hydraulic sawmills. Their business was featured in The Wood-Mizer Way, a leading magazine for the portable and industrial sawmilling industry with circulation of 40,000+.
The company builds floating homes, and manages an average of 8,000 board feet a day. "I cut railroad bridge timbers 8"x20" 30' long free of heart center beams select strut. I also cut timber frame beams for various companies including Arrow Timber framing. I can produce beams up to 36"x36" 76' long."
The sawmill actually started as a tool for creating his homes. "I bought a Wood-Mizer to produce long timbers for under my floating homes when I build them." What used to take Derek three weeks to build now only takes him four days. Derek was working at a sawmill at the time, but the economy took a swing. "The economy put the sawmill out of business so I moved [the mill] home and now I am swamped with orders."
For more information about Derek's sawing and construction business, see their online winner showcase. Wood-Mizer's bi-annual Business Best contest recognizes customers who utilize top sawing practices and sound financial strategies to earn a living and a reputation as the best in the business. See other winning entries.
###
Wood-Mizer offers an extensive line of portable and industrial sawmill equipment. The company supports its equipment with legendary customer service, blades, and blade maintenance equipment. To learn more, visit http://www.woodmizer.com.