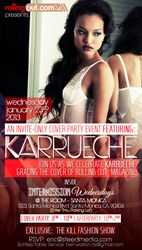 (PRWEB) January 22, 2013
Karrueche Tran never imagined her life would become the focus of an international tabloid frenzy. After months filled with soap opera drama, Karrueche opens up to editor Amir Shaw to discuss her newfound celebrity, her new clothing line she manages along with her former love interest, and moving forward in life.
The exotic beauty was thrown into the public eye two years ago when she began dating pop superstar Chris Brown. Being photographed with Brown made her an immediate muse for paparazzi and target of Brown's fans. "The most challenging part about the attention was the negativity and the misconception from some people," Karreuche reveals. "People only see you in blogs and they think they know everything about your life. There are things that go public and everything that comes out is not the truth."
This year, Karrueche is launching a women's clothing line, "The Kill", an extension of Brown's "Black Pyramid." When she sits down with Shaw, she explains why she teamed up with the brand, how she chose the name and, of course, provides insight on her relationship with Brown.
Join Karrueche and rolling out for an invitation-only party to celebrate her first national cover story and for an exclusive sneak peek runway show and debut The Kill fashion collection on Wednesday, Jan. 23, 2013 at The Room – Santa Monica, 1323 Santa Monica Blvd. at 8 p.m. For media inquiries with rolling out Magazine contact Eric Williams, eric(at)steedmedia(dot)com.
Visit rollingout.com to read the interview in its entirety. Be sure to check out the exclusive photo shoot and video footage with celebrity photographer DeWayne Rogers.
About rolling out Magazine:
Rolling out, the nation's largest free urban weekly, is a digital and print magazine that focuses on the black experience in response to entertainment, politics, fashion, culture, sports and lifestyle points of interest. Headquartered in Atlanta, rolling out is positioned as the voice for the African American experience, using its newspaper as a platform in the marketplace to express urgency for education reform, and to document entrepreneurial endeavors and other relevant issues in the Diaspora. For information on rolling out, please log on to rollingout.com.