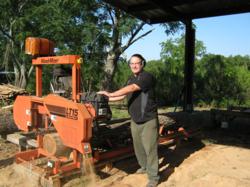 My business, though small, is all about timber, lumber, and furniture. The sawmill allows me to gain a lift over ten-fold more than the market value of the timber stumpage.
Hawkinsville, Georgia (PRWEB) January 29, 2013
Every two years, Wood-Mizer, the industry leader in portable and industrial sawmills, holds a national contest for more than 40,000 customers to find sawmill businesses that truly are a cut above the rest.
Hamsley Forestry won first place in the category for businesses running Wood-Mizer's manual sawmill equipment. The business was featured in The Wood-Mizer Way, a leading magazine for the portable and industrial sawmilling industry with circulation of 40,000+.
Owner Danny Hamsley, a registered Forester, started sawing his own lumber in 2002 to expand on his furniture building hobby. He began selling some of the extra lumber he was producing, and was surprised at the interest from local woodworkers. He developed a plan to retire and focus on sawing and selling hardwood lumber locally.
His business involves harvesting trees from his own acreage, sawing each log up one-by-one, drying the lumber, and then either selling it, or building furniture for sale.
For more information about Danny's business, visit his online winner showcase.
Wood-Mizer's bi-annual Business Best contest recognizes customers who utilize top sawing practices and sound financial strategies to earn a living and a reputation as the best in the business. See other winning entries here.
###
Wood-Mizer offers an extensive line of portable and industrial sawmill equipment. The company supports its equipment with legendary customer service, blades, and blade maintenance equipment. To learn more, visit http://www.woodmizer.com.