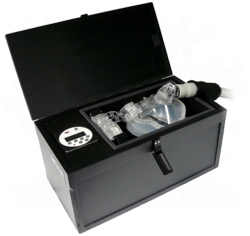 One thing I can say is that we have enjoyed hearing from our customers that there is a side benefit to using the SoClean—their improved health.
Uxbridge, MA (PRWEB) January 23, 2013
Better Rest Solutions' new product,SoClean™ utilizes ozone to sanitize CPAP Equipment. Discussions have been rising on the safety of home-use of ozone for sanitization. Activated oxygen or "ozone" is a natural molecule that is formed when a third atom of oxygen is introduced into the common two-atom molecule that makes up the air we breathe. This molecule becomes "super-charged" and has the ability to oxidize, or destroy many other molecules found in nature. As powerful as it is, this molecule is self-limiting, in that shortly after it is formed it reverts back into normal oxygen.
The average person equates the word "ozone" with smog. While ozone can at times be a component of smog, smog primarily consists of toxic hydrocarbons and volatile organic compounds.
Some people feel that ozone should not be used by the average homeowner and that it should only be handled by professionals because of how powerful a sanitizer it is. Yet many make daily use of such a powerful product—bleach. Chlorine bleach is incredibly powerful and can be dangerous—even lethal. Yet homeowners are perfectly comfortable using bleach because they understand that it can be handled in a safe way. The effectiveness of the product makes it worth following the necessary precautions. Ozone reacts 3,000 times faster than chlorine and can kill any virus or bacteria known to man.
Now enters the product SoClean and its innovative use of ozone to sanitize CPAP equipment. Ozone is used extensively for municipal water purification and is also used by hospitals, food handlers, and within the hotel industry. Though its use may go unnoticed, ozone continues to be the method of choice when it comes to safe, effective sanitizing.
Some products that have been put out on the market, such as certain air purifiers, have been cited as being a health concern because of their use of ozone. These products discharge ozone into the surrounding air, and expose any humans present to potentially unsafe levels of ozone. What separates the SoClean from such devices is that it never releases ozone into the outside environment. It generates ozone and sanitizes CPAP equipment within a closed-loop system. Any gas that escapes this process passes through a special filter that converts it back into breathable oxygen first. Residual ozone that remains in the system naturally reverts back into the air we breathe in about two hours time.
With CPAP therapy comes the challenge of keeping the equipment properly sanitized, so as to minimize any potential exposure to MRSA and other pathogens that may be present. It is important to sanitize the mask and equipment because the end-user wears the mask daily. In order to keep the mask clean, typically the end-user has to take apart the mask, hose, and humidifier reservoir, clean them, and then reassemble them.
Better Rest Solutions' innovative technology automatically completes this daily chore of sanitizing a CPAP mask, hose, and reservoir without any disassembly. It uses this activated oxygen to eliminate any mold, bacteria, and viruses it comes in contact with—safely and effectively.
As the SoClean unit generates activated oxygen, it is pumped directly into the humidifier reservoir, and then migrates through the hose into the chamber where the mask rests. Everything that is exposed to activated oxygen is immediately sanitized. All activated oxygen generated by the cleaning process is safely contained within a closed system. Neither the outside environment, nor the CPAP's delicate electronics are exposed.
"Our goal here at Better Rest Solutions is to enhance and improve the sleep experience and overall health of those with sleep disorders and the partners that are compliant to their therapy as well. If that requires innovation, we are up for the task," said Michael Schmidt, President of Better Rest Solutions.
Moreover, he adds, "One thing I can say is that we have enjoyed hearing from our customers that there is a side benefit to using the SoClean—their improved health. We designed the device to make a tedious task safe and easy in hopes that if people kept their equipment sanitized, they would see good results and improve their health along with it. It is exciting to hear from so many that this is the case."
For more information on Better Rest Solutions, the SoClean device, and activated oxygen or "ozone" visit: http://www.betterrestsolutions.com/SoClean.html
Ordering Information:
To order the SoClean, order directly from Better Rest Solutions at http://www.betterrestsolutions.com. Or contact CareFusion by phone at 800.582.7458 or by email at tiarasales(at)carefusion(dot)com.
About Better Rest Solutions:
Many of the employees at Better Rest Solutions either have, or have a close family member who has obstructive sleep apnea. Their personal insight into this condition is part of the foundation that they have built their company on. They are dedicated to providing relief for OSA sufferers and are proud to be offering the SoClean as a way to get the most out of CPAP therapy. Besides the health benefits connected with using germ-free equipment, there is a peace of mind that comes from knowing that the end-user's CPAP equipment is as safe as can be.