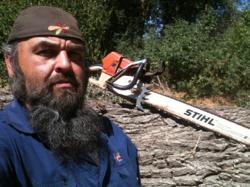 No two sawing jobs have been alike and all have been interesting and fun, and what better kind of business is there than one that can be operated with family?
Ceres, California (PRWEB) January 30, 2013
Every two years, Wood-Mizer, the industry leader in portable and industrial sawmills, holds a national contest for more than 40,000 customers to find sawmill businesses that truly are a cut above the rest.
KnottHead Custom Sawing, from Ceres won second place in the category for businesses running Wood-Mizer's manual sawmill equipment. Their business was featured in The Wood-Mizer Way, a leading magazine for the portable and industrial sawmilling industry with circulation of 40,000+.
Charles De Greek and one other employee, his father, make up the workforce. Established in 2010, this fledgling company has already found its niche. "We mostly cut pine, cedar, and oak here in central California. We build some custom items, such as benches, tables and signs... Each job has been a little bit different."
Charles has no plans on slowing down KnottHead's production anytime soon. They just purchased a LT40 Super Hydraulic sawmill. "We would eventually like to have an edger...and multiple kilns so we can offer drying services." Charles and his father seem very content with the success brought by their endeavor. "We love having a portable sawmill, seeing something made out of wood, and seeing how happy people get when they see what we are able to accomplish always makes for a good day at day's end."
For more information about KnottHead Custom Sawing, see their online winner showcase.
Wood-Mizer's bi-annual Business Best contest recognizes customers who utilize top sawing practices and sound financial strategies to earn a living and a reputation as the best in the business. See other winning entries here.
###
Wood-Mizer offers an extensive line of portable and industrial sawmill equipment. The company supports its equipment with legendary customer service, blades, and blade maintenance equipment. To learn more, visit http://www.woodmizer.com.