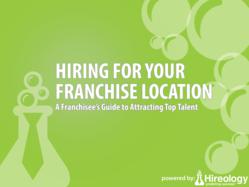 We designed this eBook as a learning piece for franchisee's who are simply looking to hire the right person
Chicago, IL (PRWEB) January 23, 2013
The leading selection management platform, Hireology, recently released an educational eBook for franchisees hiring and recruiting talent for their franchise locations. The 20-page guide features interactive pages with tips, advice, and steps to hire the right person for any position within a franchise unit.
The eBook titled, "Hiring for your Franchise Location: A franchisee's guide to attracting top talent," features five sections including: Job descriptions, promoting the job, improving your career page, career site examples, and interviewing techniques for franchisees. Each section is interactive and includes links to interview guides, examples, and additional content.
"Franchisees understand that hiring and recruiting is a crucial part of their business and building a great team is the foundation," says Hireology CEO, Adam Robinson. "We designed this eBook as a learning piece for franchisee's who are simply looking to hire the right person."
Hireology's Selection Manager™ is the number one choice for franchisees and small business owners looking to streamline and organize their hiring process. Hireology will be exhibiting their Selection Manager™ at the International Franchise Association National Conference in Las Vegas this February. To download the franchise's hiring guide eBook and to start a free trial of Hireology visit http://resources.hireology.com/hiring-for-your-franchise-location
About Hireology
Hireology's award-winning Selection Management System helps companies organize their hiring process and leverage data to make better hiring decisions. Franchise systems, banks and financial institutions, healthcare systems, dealer networks, and other multi-site operators use Hireology's web-based Selection Manager™ to deliver consistent and repeatable hiring decisions in the field - leading to better hiring decisions, lower turnover, and increased profitability per location. For more information, please visit http://www.Hireology.com.