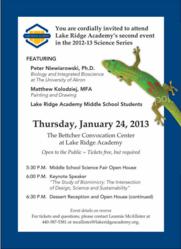 North Ridgeville, OH (PRWEB) January 22, 2013
This year Lake Ridge Academy's second event in the 2012-13 Science Series will be featuring the Lake Ridge Academy Middle School Students and Peter Niewiarowski, Ph.D., Biology and Integrated Bioscience at The University of Akron.
Northeast Ohio is home to the only doctorate program in biomimicry led by Dr. Peter Niewiarowski at the University of Akron. Lake Ridge Academy is pleased to welcome him to one of our most prominent science events of the year. Biomimicry is the study of nature to solve human problems, and a well-recognized example was demonstrated by the Wright Brothers when they studied birds to successfully design the wings of their first airplane.
Today, companies and educational institutions are studying nature to solve major environmental sustainability problems and create better products. Super sticky gecko tape, for example, is modeled after the structural features of a gecko's foot and could one day allow us to scale buildings just like Spiderman!
Lake Ridge Academy has begun to work with Dr. Niewiarowski to grow our already strong environmental education program. Lake Ridge Academy recently introduced its first biomimicry course (2013) and one day hopes to build a research center on our own campus that could serve as a resource for other schools and organizations in Lorain and Cuyahoga Counties.
Lake Ridge Academy Middle School scientists will proudly showcase their science projects on Thursday evening and will be judged by faculty and regional science professionals the following day. Last year following the judging, eleven students advanced and ultimately won awards at the Northeast Ohio Science and Engineering Fair. Thirteen of our Middle School students advanced to the Ohio State University Science Day.
The Middle School Science Fair will be on Thursday, January 24, 2013 in The Bettcher Convocation Center. Please call 440.387.5381 or email Leannie McAllister at mcallisterl@lakeridgeacademy.org to request tickets. Tickets are free.
5:30 p.m. – Middle School Science Fair Open House
6:00 p.m. – Keynote Speaker
"The Study of Biomimicry: The Intersection of Design, Science and Sustainability"
6:30 p.m. – Dessert Reception and Open House
Lake Ridge Academy is grateful to the Norton Family Foundation for generously
sponsoring this event and supporting our talented students and their scientific endeavors.
About Lake Ridge Academy
Lake Ridge Academy is an independent, nonsectarian day school offering co-educational classes from kindergarten through grade 12.
Founded in 1963, Lake Ridge Academy is committed to providing small class sizes and maintains an 8:1 student ratio. Located on a beautiful 88 acre campus, we are the only independent college preparatory school on Cleveland's west side.
Our mission is to send into a changing world confident young people of integrity who think critically and creatively while embracing the joy of lifelong learning.