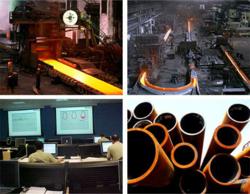 World class Production Planning and Scheduling and MES solution, for JSW Steel by Broner
Watford, UK and Nicosia, Cyprus (PRWEB UK) 27 January 2013
Broner Metals Solutions, provider of integrated MES, supply chain and advanced planning & scheduling solutions for the metals industries, has been selected by JSW Steel Ltd to implement a world-class Production Planning and Scheduling solution together with Broner's MES solution, for the JSW Vijaynagar Integrated steel complex, India.
JSW Steel is one of the lowest cost steel producers in the world. JSW's Vijayanagar Works is India's largest single location steel plant with 10 MTPA capacity. The next phase of expansion taking the total production to 12 MTPA at Vijayanagar Works is also under implementation.
The JSW plant currently consists of a large Cold Rolling Mill Complex (CRM1). A second Cold Rolling Mill (CRM2) is being built and is planned for completion in August 2013.
The Broner solution will be implemented in partnership by Broner Metals Solutions and JSoft starting with the installation of Broner's MES functionality at JSW's new Cold Rolling Mill (CRM2).
Broner's MES and APS Solutions were selected because of its ease of configurability, ease of implementation, cost effective maintenance and early delivery of business benefits.
Broner is working closely with partner JSoft Solutions. JSoft have a deep knowledge of JSW's people and processes and will provide project management and skilled resources.
Mr David Mushin, CEO of Broner Metals Solutions said: "The new integrated solution will enable JSW to achieve significant business benefits, and we look forward to forming a long standing business relationship with JSW. The Broner team are excited by the opportunities and challenges of this project."
Mr. Raghu Bhargava, CEO of JSoft said: "We are very pleased to be working with Broner and leveraging the expertise of Broner and JSoft together for the benefit of JSW''.
About JSW Steel Limited
JSW Steel has grown from a steel rolling mill founded in 1982, and is now India's third-largest steel producer. JSW Steel is part of the JSW Group, who are one of the fastest growing business conglomerates with strong presence in many core sectors; Steel, Energy, Minerals and Mining, Aluminium, Infrastructure and Logistics, Cement and Information Technology.
JSW Steel offers the entire range of steel products including Hot Rolled, Cold Rolled, Galvanized, Galvalume, Pre-painted Galvanised, Pre-painted Galvalume, Thermo-Mechanical Treatment Rebars, Wire Rods & Special Steel Bars, Rounds & Blooms.
JSW Steel has manufacturing facilities across India at Toranagallu in Karnataka, Vasind & Tarapur in Maharashtra and Salem in Tamil Nadu.
By 2020, the Company aims to produce 34 million tons of steel annually with Greenfield integrated steel plants coming up in West Bengal near Salboni about 35 km from Kharagpur and Barenda in Ranchi district of Jharkhand.
About Broner Metals Solutions
Broner Metals Solutions is a world leader in delivering Advanced Production Planning, Scheduling, Supply Chain Management and Manufacturing Execution Systems (MES) that are designed specifically to manage the complexities of steel and aluminium production.
Broner Metals Solutions is the Metals Specialist part of Hyperion Systems Engineering.
Broner has been in the metals business for over 30 years. The company was founded in 1978 as a consultancy company specializing in control system design for steel and aluminium cold-rolling mills. Subsequently, Broner developed its first Planning and Scheduling packages to meet the specific needs of the metals industry, which were implemented starting in the early 1990s. These have been developed to become a fully integrated suite of supply chain management solutions covering the needs of all types of flat and long products plants in the steel and aluminium industries. The solutions comprise:

Sales and Operations Planning
Order Promising - ATP / CTP
Production Planning
Production Scheduling
MES - Production Management
MES - Quality Management
MES- Inventory Management
MES - Equipment Management
Broner solutions have been implemented at metals plants throughout the world.
Building on its strong track record and proven technologies, Broner aims to be the dominant supplier of knowledge-based solutions to the global steel and aluminium industries. By delivering reliable, proven and flexible solutions, its mission is to enable its customers to maximise the value they obtain from their supply chain and production management by running their processes at an optimised level.