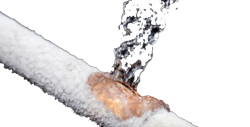 Burst Pipes
(PRWEB UK) 29 January 2013
As recent burst pipes become a problem for the average home owner in the UK, the public have one question in mind, is this current plumbing crisis set to get worse?
With January beginning quite mild, this left some plumbers quiet in what is the traditionally hardest month of the year. With the big freeze setting in, companies in some areas of the UK have been in demand for burst pipes especially if you are a Emergency Plumber in London.
In some areas of the UK it has been hard to reach homes leaving some unfortunate householders in trouble. Thankfully for most residents, plumbers have been able to get through to occupants, as the big freeze has recently not hit the UK too hard at present.
The current weather patterns in the UK are up and down. History of cold weather may find that the weather is most likely going to get colder before the warmer weather arrives.
The most common reason an Emergency Plumber is required in the icy conditions of winter are for burst pipes. These normally start to freeze when the outside temperatures go into the minus.
If experiencing any burst pipes, it is always good to know a reliable plumber or make note of three plumbers that are genuine 24 hours. Most Emergency Plumbers are easy to get out up until 8pm in the evening.
At -1° a pipe can freeze slowly which is a warning for those who go on holiday. At around -10° the pipes can freeze very quickly. When at work, a home owner may expect to come home to a burst pipe. A good way to help stop burst pipes are to have sufficient lagging on vulnerable piping. For example: outside taps, attic spaces and by having the central heating on, keeping the whole house at the correct temperature (recommended at 10° or above). The central heating is best when correctly balanced. This ensures that some hidden pipes stay above 1° before it gets to the stage where the pipe begins to freeze.
With experience in the plumbing industry, it has been noted that the later in the day for calling an emergency plumber out, the harder it can be to get a reliable Emergency Plumbing Engineer to come to the property or business.
A good recommendation would be to have one or more local plumbing engineers details to hand, ensuring the emergency company is a true 24hr plumbing service. However this is not always the case and it would be beneficial to have a reliable national company who specialise in midnight plumbing emergencies to keep to hand as an alternative option.
The point of this is to make people aware about the effects of the cold weather on properties and in doing so trying to help avoid burst pipes, which this can cost millions per year to the nation.