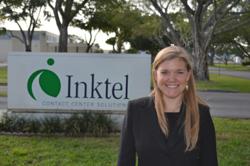 "We have a lot of exciting goals and initiatives planned for 2013, and I am fortunate to have the opportunity to contribute significantly to them in this new role." -Summer Dennis
Miami Lakes, FL (PRWEB) January 22, 2013
Inktel has announced the promotion of Summer Dennis to President and Chief Operating Officer of Inktel Contact Center Solutions.
Summer has been with Inktel for 3 years serving as the Vice President of Client Services and Quality Assurance. In her new role, she will oversee Operations, Client Services, Training, and Quality Assurance for all of Inktel's Contact Centers.
"This is a very exciting development for us," said CEO Ricky Arriola. "Summer has been one of Inktel's most valuable team member for years, building strong relationships with our clients and honing impeccable managerial skills. Her new role will no doubt strengthen Inktel as an industry leader."
Summer is a seasoned client services and operations professional with experience driving process efficiencies and margin improvements for Fortune 100 companies. Prior to joining Inktel, Ms. Dennis served as Director of the Retail and Energy Client Group at Arise Virtual Solutions, where she was responsible for a portfolio that included multiple Fortune 500 organizations and drove double-digit revenue growth.
She holds a Master of Business Administration degree from Harvard Business School and a Bachelor of Business Administration degree in Finance as well as a Bachelor of Arts degree in Spanish and Portuguese from the University of Texas. She is also a certified Internal Auditor.
"We have a lot of exciting goals and initiatives planned for 2013, and I am fortunate to have the opportunity to contribute significantly to them in this new role," said Ms. Dennis of her future as Inktel's President and COO. "I look forward to working with all of our teams and departments to continue to drive our Best Practices and deliver exceptional experiences to our clients, employees, and communities."
About Inktel
Inktel Contact Center Solutions LLC is a leading business process outsourcer specializing in contact center services. As one of the top outsourcers in the United States, Inktel provides Contact Center Solutions to many Fortune 500 companies, federal/state/local government agencies, not-for-profit agencies and other leading organizations. The rapidly growing organization has received multiple awards and recognition including a "Best & Brightest Company to Work For" in the nation (National Association of Business Resources), the "Best Place to Work" in South Florida for three years in a row (South Florida Business Journal) and one of Crain's Business Magazine's "Best Places to Work" in Chicago. Inktel has operations nationally, including offices in Miami, Chicago, Dallas, New York City and Ft. Lauderdale, among other cities. Company news and background information are available at http://www.inktel.com or call 1-888-4-INKTEL.