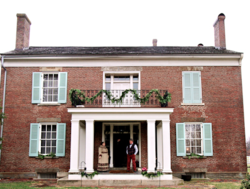 "Workshops at Watkins Mill bring me closer to my heritage - knowing the effort of past generations to make creations like woolen creatures make me realize how lucky I am" Amanda workshop participant 12 years old.
Kansas City, MO (PRWEB) January 23, 2013
Watkins Mill Association Presents Needle Felting Workshop at Historic Site
The Watkins Mill Association will host a two-part needle-felting workshop at the Watkins Woolen Mill State Historic Site on January 26 and February 2, from 1:00 p.m. to 4:00 p.m. both days. Instructor Sonia Spotts will teach participants how to transform raw wool into whimsical miniature animals using needle felting tools. The two-day workshop costs $45 and reservations may be made online at http://woolencritters.bpt.me/
Since its inception in 1958, the Watkins Mill Association has helped visitors connect to the past through living history and volunteer programs at the Watkins Woolen Mill State Historic Site.
For 2013, the association will present a series of creative workshops – on writing, painting, sculpture, Victorian life, genealogy, and more – designed to help today's families relate to the Watkins' experiences in a relevant way.
In the felting workshop, participants will discover the versatile and timeless wool fiber, which had an important impact on the Watkins family farm and business, and on society as a whole. The Watkins raised Merino and Cotswold sheep, which produce the world's finest quality of wool even now, and their mill contained state of the art equipment for its time.
Early looms were a technological advancement that actually helped pave the way for today's computers, smart phones and other communications technologies. Joseph Marie Jacquard (1752-1834), innovator of the loom that bears his name, developed the first loom to weave designs into cloth. It was also recognized as the first machine to use the punch-card technology that would eventually program mid-twentieth century computers.
Watkins Mill Association is the official friends group of the Watkins Woolen Mill State Historic Site and has donated an estimated $700,000 to the site for repair and restoration as well as living history and interpretation programs.
Sonia Spotts is an illustrator who finds nature to be an endless source of inspiration for all of her work. She has been teaching and producing art in Kansas City for over 25 years. She received a Bachelor of Fine Arts in painting at the Kansas City Art Institute and worked for 15 years in Hallmark's photography studio as a photo stylist and art director. She recently launched a business called Creative Camp, which allows her to put her varied artistic talents to use.
Facebook/Twitter posts:
Learn to make whimsical felted wool critters at this workshop sponsored by Watkins Mill Association! http://woolencritters.bpt.me/
Connect with Watkins Mill Association:
http://www.watkinsmill.org
https://www.facebook.com/watkinsmillassociation
http://twitter.com/WatkinsMillAssc